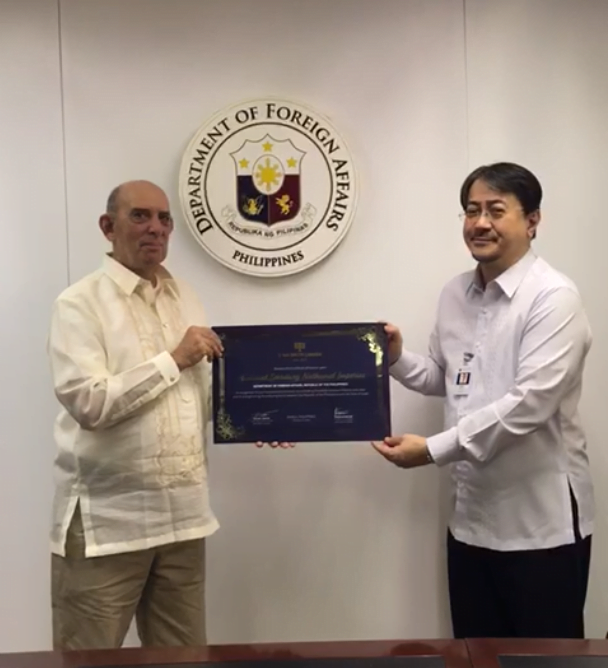 Feb. 23, 2023
MANILA – Representatives of the Philippines would like the world to know that their commitment to the International Holocaust Remembrance Alliance (IHRA) is strong and meaningful.
That was the message expressed during a meeting in Manila this week from Neal Imperial, the Philippines' Assistant Secretary of Foreign Affairs and a former ambassador to Israel.
Imperial set out the Philippines' position during a visit to Manila by Marvin Rotrand, National Director of B'nai Brith Canada's League for Human Rights (LHR). The Philippines have yet to be invited to join IHRA but B'nai Brith feels the addition of the Philippines would be an important boon to the alliance.
"We commend the friendship between Filipinos and Jews and we are eager to make the leadership and heroism of (former Philippines President Manuel) Quezon better known in Canada," Rotrand said. "President Quezon rescued Jews when others shut their doors.
"The Philippines would be a wonderful addition to IHRA broadening the organization's reach into Southeast Asia and adding a nation that has consistently stood for humanity, compassion and solidarity against bigotry, racism and hate."
Rotrand visited Manila to meet with Imperial and discuss B'nai Brith Canada's work to highlight President Quezon's leadership of the Philippines. Quezon's work enabled 1,300 Jewish refugees to escape from the Holocaust and find sanctuary in the Philippines. President Quezon died in 1944 at age 65. At the United Nations, the Philippines voted in favour of supporting the rebirth of the State of Israel in 1947 and established full diplomatic relations with Israel in 1957.
During his time as ambassador, Imperial brought stories of humanitarian efforts of the Philippines to protect Jews to the attention of the Israeli public and succeeded in ensuring that historical information was displayed in Yad Vashem. The safe haven that Quezon provided for Jewish refugees is recalled today at the Holocaust Memorial Park in Rishon LeZion in Israel, where his open-door policy is explained.
B'nai Brith is convinced that the battle against rampant and growing global antisemitism would be significantly strengthened if IHRA proactively recruited democratic nations into its membership.
"We recently urged Ukraine to become a member," said Michael Mostyn, B'nai Brith Canada's Chief Executive Officer. "Ukraine's absence from IHRA is difficult to comprehend. This is a country with a significant Jewish population and rich in Jewish history. It has many important Holocaust sites in urgent need of preservation. There are other countries too that have adopted the IHRA definition but have never been invited to join the organization. The Philippines comes immediately to mind."
The high-level government meetings also focused on encouraging more dialogue between Filipinos and Jews and having each community support each other's heritage months in Canada. Jewish Heritage Month is in the month of May in Canada while Filipino Heritage Month is in June.