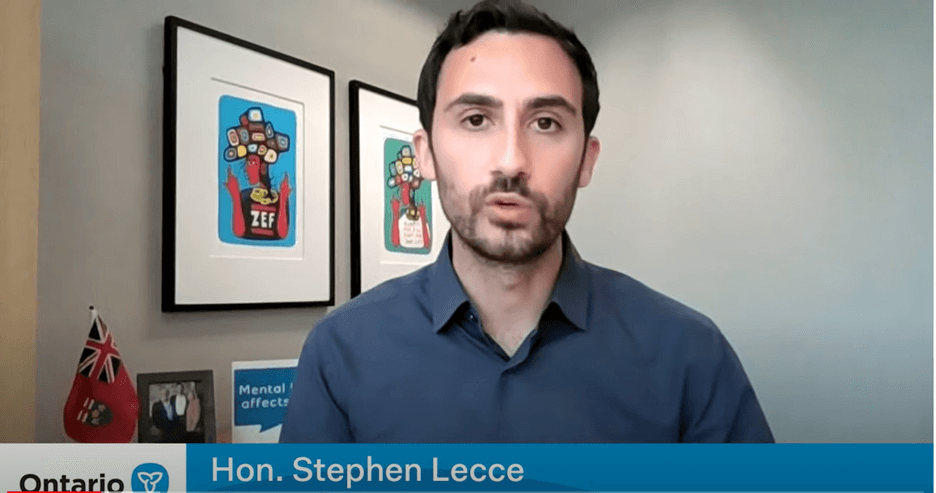 July 5, 2021
TORONTO — The Government of Ontario has announced $327,000 in new measures to combat Jew-hatred in the province's public schools, days after B'nai Brith Canada sent Education Minister Stephen Lecce a letter requesting action on this issue.
In a letter sent last week, the grassroots Jewish human rights organization also reminded Lecce of Ontario's adoption of the International Holocaust Remembrance Alliance (IHRA) Working Definition of Antisemitism back in October of last year. B'nai Brith called on the Education Ministry to instruct publicly-funded school boards to combat antisemitism within their ranks with reference to the IHRA Definition, and fund resources to assist educations in doing so.
As previously revealed by B'nai Brith, May of 2021 was the worst month for antisemitic violence in Canada on record since 1982, with much of the hatred coming in response to fighting between Israel and the Hamas terrorist group.
While Ontario schools have remained physically closed throughout this period due to COVID-19 restrictions, some anti-Jewish incidents at schools have still been reported, such as a Jewish student having his graduation photo on his school's Instagram page bombarded with anti-Israel messages.
At the same time, extremists have attempted to abuse their positions within the education system to spread hateful propaganda. Javier Davila, an equity adviser for the Toronto District School Board (TDSB), sent two emails to teachers filled with anti-Israel "resources" for classroom use, including some composed by members of the Popular Front for the Liberation of Palestine (PFLP), a designated terrorist entity, and others glorifying Palestinian suicide bombings. Davila has been suspended pending an investigation, but remains unrepentant and continues his indoctrination efforts online.
Similar problems have cropped up in other school boards as well, including in Ottawa and York Region. B'nai Brith suspects that the problem may be much more widespread than currently reported, since some areas of Ontario have few, if any, Jewish students, and the province maintains a parallel system of publicly-funded Catholic school boards.
"The Government of Ontario must make good on its commitment to fighting antisemitism," said Michael Mostyn, Chief Executive Officer of B'nai Brith Canada. "Antisemitic indoctrination in public schools is a grave threat to the Jewish community, and must be treated as such.
"We welcome today's announcement as a positive step, and look forward to working with Queen's Park to ensure that words are translated into action."
Last week, Lecce announced that Ontario would dedicate $300,000 to combatting Islamophobia within the province's schools. The TDSB, Ontario's largest school board, reported 15 antisemitic incidents in the 2018-2019 school year and 31 in 2019-2020, compared to four and seven Islamophobic incidents, respectively. In both years, anti-Black racism was by far the largest source of hate incidents.