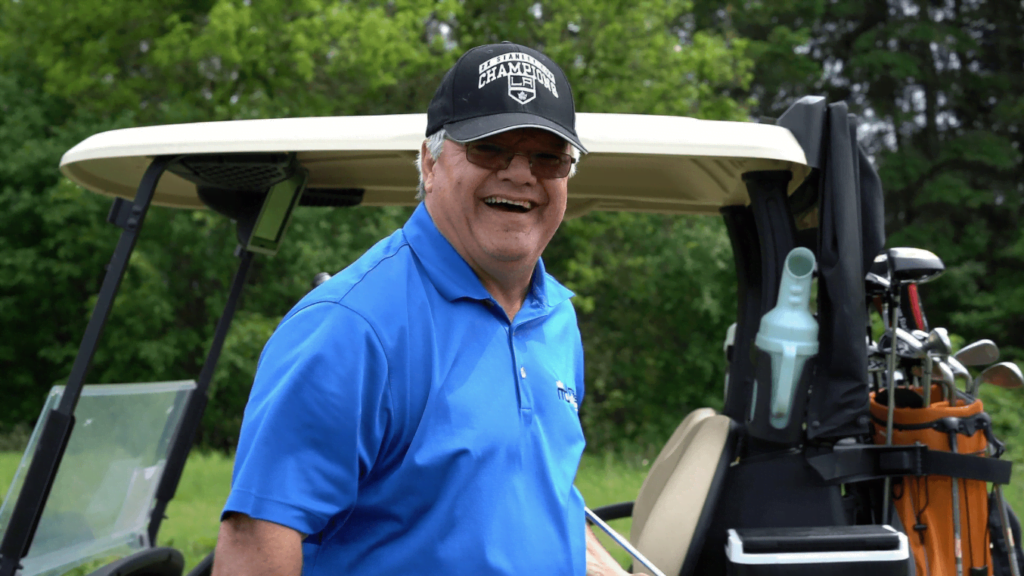 March 22, 2018
By Marty York
Chief Media Officer
B'nai Brith Canada
By popular demand, NHL Hall of Famer 
Marcel Dionne
 will return as a celebrity and guest auctioneer at the next B'nai Brith Charity Golf Classic, which will take place at the Lebovic Golf Club in Aurora, Ont., on Mon., June 11, 2018.
If you haven't registered to participate yet in the 3rd Annual B'nai Brith Charity Golf Classic, and you'd like to, please do so quickly as we are rapidly approaching a sellout.
To register as a player, click here.
"The Lebovic Club has a terrific and challenging course," said Dionne, one of the most prolific superstars in hockey history. "B'nai Brith put on a great tournament the past two years and I'm sure the third one on June 11 will again be a classic in the true sense of the word."
Dionne added: "I've really enjoyed meeting all the people from the community who have come out in support of B'nai Brith's important projects. I'm honoured and grateful to be associated with this tournament."
Dionne has been a big hit at the B'nai Brith tournaments. In addition to enthusiastically mingling with the golfers and sharing old NHL war stories with them, Dionne has dazzled participants with his collection of sports memorabilia, which he has auctioned off and signed during the post-tournament dinner festivities. Marcel is hinting that the memorabilia he will bring June 11 will raise eyebrows even more than in the previous two years.
Other celebrities, of course, will also be on hand to participate in our tournament , and we will announce their identities in communiques soon. Stay tuned, but rest assured that our tournament will again offer players the chance to schmooze with high-profile celebrity guests. You'll also receive more than $1,500 in donated giveaways, enjoy a fabulous lunch and dinner, be able to nosh on tasty hor d'oeuvres, indulge in your favourite alcoholic beverages, bid on amazing prizes and play a round at one of the most prestigious golf clubs in Ontario. All food and refreshments will be Kashrut observed.
READ MORE: Sandy Hawley, NHL Star Gary Leeman to Participate in B'nai Brith Charity Golf Classic
B'nai Brith Canada relies on the generosity of our donors to realize our goals. All funds donated to our organization (including those collected from the B'nai Brith Charity Golf Classic) go towards:
Supporting Canadian students with advice, assistance and resources when faced with discrimination and antisemitism on campus.
Daily programs and services designed to help inform, stimulate and keep seniors active, as well as create lasting friendships and maintain ties to their community.
Providing affordable housing for our community's most vulnerable.
If you cannot make it to our tournament, please consider donating to it by clicking here.