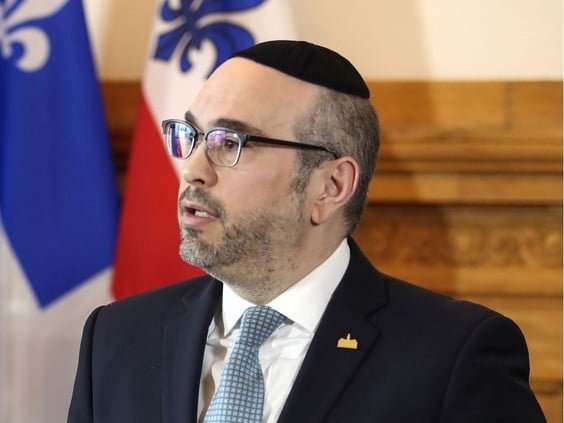 For English, see below.
Un arrondissement de Montréal adopte la définition de l'antisémitisme de l'AIMH
MONTRÉAL – Un arrondissement de la ville de Montréal s'est joint à la liste croissante de juridictions qui adoptent formellement la définition largement acceptée de l'antisémitisme par la communauté juive.
L'initiative a été menée par le chef de l'opposition Lionel Perez, chef du parti «Ensemble Montréal». B'nai Brith Canada 
soutient depuis longtemps 
l'adoption de la définition de l'AIMH par tous les paliers de gouvernement.
« Nous félicitons l'arrondissement Côte-des-Neiges — Notre-Dame-de-Grâce et toute la ville de Montréal pour cette étape importante vers l'élimination de l'antisémitisme dans ce pays », a déclaré Michael Mostyn, directeur général de B'nai Brith Canada. « Nous ne pouvons pas résoudre le problème sans l'identifier correctement, et la définition de l'AIMH est le meilleur outil disponible pour faire exactement cela en matière d'antisémitisme. »
« L'antisémitisme est en hausse au Canada depuis plusieurs années, et la pandémie de COVID-19 n'a fait qu'exacerber ce problème – y compris à 
Qué
bec
 et à 
Montréal
. Nous appelons la Ville de Montréal à suivre les traces de l'arrondissement et à faire ce qui est juste. »
La définition de l'AIMH est devenue une 
question de consensus
 au sein de la communauté juive du Canada et a été adoptée par 
28 pays à travers le monde
. Les efforts visant à faire adopter la définition de l'AIMH partout au Canada sont en cours depuis plusieurs années. B'nai Brith a été fortement impliqué dans des campagnes fructueuses visant à faire adopter la Définition par le gouvernement fédéral du 
Canada
 en 2019 et le gouvernement provincial de l'
Ontario
 en 2020, ainsi que d'autres exemples locaux.
B'nai Brith continue d'interpeller tous les niveaux de gouvernement à travers le pays à emboîter le pas et à adopter la Définition de l'AIMH dans leurs propres juridictions.
Montreal Borough Adopts IHRA Definition of Antisemitism
Jan. 27, 2021
MONTREAL – A borough within the city of Montreal has joined the growing list of jurisdictions to formally adopt the Jewish community's widely accepted definition of antisemitism.
The initiative was spearheaded by opposition leader Lionel Perez, head of the "Ensemble Montreal" party. B'nai Brith Canada has 
long supported
 the adoption of the IHRA Definition by all levels of government.
"We commend the borough of Côte-des-Neiges—Notre-Dame-de-Grâce and the entire city of Montreal for this important step towards the goal of eliminating antisemitism in this country," said Michael Mostyn, Chief Executive Officer of B'nai Brith Canada. "We can't address the problem without correctly identifying it, and the IHRA Definition is the best tool available for doing just that when it comes to antisemitism.
"Antisemitism has been rising in Canada for several years, and the COVID-19 pandemic has only exacerbated this problem — including in 
Quebec
 and 
Montreal
. We call on the City of Montreal to follow in the borough's footsteps and do what is right."
The IHRA Definition has become a 
consensus issue
 within Canada's mainstream Jewish community, and has been adopted by 
28 countries worldwide
. Efforts to see the IHRA Definition adopted throughout Canada have been ongoing for several years. B'nai Brith was heavily involved in the successful campaigns to have the Definition adopted by 
Canada
's federal government in 2019 and 
Ontario
's provincial government in 2020, along with other local examples.
B'nai Brith continues to call on all levels of government throughout this country to follow suit and adopt the IHRA Definition within their own jurisdictions.