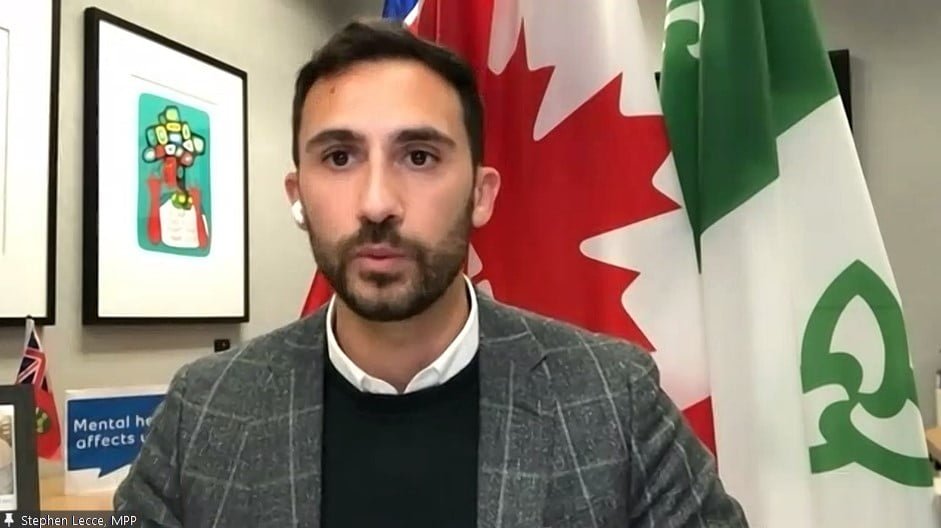 Jan. 16, 2023
TORONTO – In a thoughtful presentation made at a B'nai Brith Canada online forum last week, Ontario Education Minister Stephen Lecce acknowledged that antisemitism in the province often occurs without repercussions – and he suggested that this must change sooner rather than later.
"In Ontario," Lecce told listeners, "we are constantly facing an uphill battle that hate against the Jewish community must be taken more seriously. There needs to be more accountability when it happens, which hasn't been happening."
The event last Wednesday night featured Lecce and other speakers as part of B'nai Brith's work for Ontario's Anti-Racism Directorate.
Lecce was joined by Shari Schwartz-Maltz of the Toronto District School Board (TDSB), who spoke about how antisemitism occurring in elementary schools is performed by students who don't even know what antisemitism or the Holocaust mean. She thanked Lecce for his continued support of the International Holocaust Remembrance Alliance's (IHRA) definition of antisemitism.
Noah Lew, Special Advisor to the Honourable Irwin Cotler, Canada's Special Envoy for Preserving Holocaust Remembrance and Combatting Antisemitism, provided an indepth explanation to the forum of what the IHRA definition means, how it is supplied and who supports it. He reiterated how IHRA is universally accepted and the most effective definition of antisemitism in existence.
Stephanie Wooley spoke about her organization, PFlag, and how it works to educate gay youth and families about stereotypes and discrimination. She also discussed ways to overcome the discrimination.
Lauren Manning of Life After Hate spoke about her upbringing, how she fell into joining racist communities and how she realized she had better get herself out of these communities.
"Ontario's decision to bring Holocaust education into our schools in Grade 6 will help protect our young people from Holocaust denial and distortion," said Michael Mostyn, Chief Executive Officer of B'nai Brith Canada. "Recent surveys in both Canada and the United States show that a disturbingly high proportion of students have little or no knowledge of the Holocaust and are susceptible to misinformation and disinformation that is so easily spread online. The Ontario Government's plan confronts this problem head-on."
Lecce informed the 100-plus attendees – who included trustees from the TDSB, the York Region District School Board, the Halton District School Board, the Waterloo District School Board, representatives of the Toronto police department as well leaders of Jewish, Black and Asian organizations – that the province is rapidly moving forward on its decision announced in November to introduce Holocaust education in elementary schools.
Lecce reminded attendees that Jewish Canadians remain the most targeted religious minority for hate crimes in Canada. He said Statistics Canada reported in 2021 that police-reported hate crimes targeting Jews were up 47 per cent. He referred to a spate of antisemitic incidents in Ontario schools last year and referenced a major study on antisemitism and Holocaust knowledge conducted by Western University and Liberation75 in 2021, which indicated that 42 per cent of students surveyed said they have unequivocally witnessed an antisemitic event.
Lecce said that, to implement its first mandatory learning requirement in elementary school on Holocaust education, the Ministry of Education is actively working with the Ontario College of Teachers to develop professional learning, also known as an Additional Qualification, for teachers so they can further support efforts to educate students on the Holocaust.
"We have alerted all the other provinces and territories to Ontario's decision to help younger students gain a deeper understanding of the significance of the Holocaust," said Marvin Rotrand, National Director of B'nai Brith's League for Human Rights. "The Northwest Territories has informed us that it will emulate Ontario to begin Holocaust education as of Grade 6 and we hope the other provinces will realize that, at a time of rising antisemitism, Holocaust remembrance is a key tool to combat hate aimed at Jews."