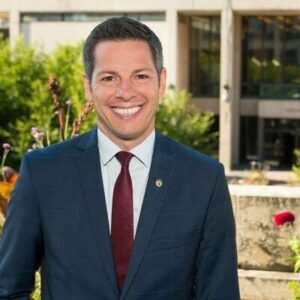 By Daniel Koren
Media Coordinator
B'nai Brith Canada
Winnipeg Mayor Brian Bowman issued a statement today (Friday, Jan. 6) denouncing an ugly act of antisemitism  that has left the entire city pretty shaken up.
On New Year's Eve, a Winnipeg family returned home to find a gift bag containing a rock painted with swastikas and antisemitic slurs, featuring the words "Die Jew Bitch. Einsatzgruppen."
In an interview with B'nai Brith Canada, Mayor Bowman stressed that Winnipeg is diverse, inclusive, and does not tolerate such hatred. He also urged residents to unite in condemning this act of antisemitism and to "stand in solidarity" with its Jewish community.
"We're all one community," the Mayor said. "Obviously, I appreciate that this hits home very directly for the affected family and members of the Jewish community, but it also shakes Winnipeggers in a very profound way, myself included. I'm not Jewish but I don't think you need to be to be disgusted and disturbed by this act of hatred. We are all one community at the end of the day and we have to stand in solidarity here in Winnipeg and across Canada to loudly condemn this type of hatred."
Mayor Bowman also thanked B'nai Brith Canada for swiftly responding to the incident after the family contacted its 24-7 Anti-Hate Hotline, not before contacting Winnipeg Police.
We will absolutely not tolerate any acts of hate in #Winnipeg. #Diversity @wpgpolice @cityofwinnipeg @bnaibrithcanada pic.twitter.com/jTbELNezxS

— Mayor Brian Bowman (@Mayor_Bowman) January 6, 2017
"The relationship [between B'nai Brith and the Winnipeg Jewish community] has been around for some time, and is very deep," he said. "I was pleased to hear that B'nai Brith was contacted, as I know the organization does good work on behalf of Canadians. I would like to thank B'nai Brith for everything it is doing in regards to this incident and other incidents across Canada that sadly continue to occur."
While the incident has been a tough pill to swallow for members of the community, acts of antisemitism have been relatively rare in Winnipeg over the past five years. "We've been placing a great emphasis on anti-racism initiatives and racial inclusion, one of the cornerstones of my mandate," Mayor Bowman said. "We've been trying to find more ways to build bridges within our community and we've had all hands on deck in the past year, with members of Jewish, indigenous, and other diverse community groups and organizations at the very grassroots level working together on this path."
The Mayor stressed that the City of Winnipeg stands with its Jewish community in condemning this act of hatred. "Know that we are standing in solidarity with you, that law enforcement works with you, and that the community supports their efforts. This is an act of hate against our community, not just against any particular individuals. It is something that must be unequivocally condemned."