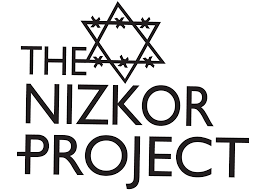 30 juin 2022
OTTAWA – Le Projet Nizkor – un site web dédié à la lutte contre le négationnisme – est fier de présenter Hilda Dajč, une victime de l'Holocauste dont les lettres décrivant les horreurs du camp de concentration ont été transformées en un célèbre roman graphique.
Récit déchirant de la misère et des privations infligées aux Juifs serbes par le régime nazi, les lettres d'Hilda ont été sorties clandestinement par le personnel infirmier juif et transformées en courtes bandes dessinées par le dessinateur serbe Aleksandar Zograf. Largement distribué en Italie, le livret a été intégré à la bibliothèque d'archives de Yad Vashem à Jérusalem en 2018 et a, à ce jour, été traduit en langues japonaise et allemande.
La série est désormais visible dans son intégralité sur le site de Nizkor.
Dans un extrait de la série, Hilda déclare: "Nous devenons tous mauvais parce que nous sommes affamés. Nous devenons tous cyniques et comptons les bouchées des autres…" Dans une autre, elle demande: "Que vont-ils faire de nous? Nous sommes dans un état de tension constant; vont-ils nous tirer dessus, nous faire exploser ou nous transporter en Pologne?"
Dans sa dernière lettre avant sa mort dans le camp, Hilda décrit l'environnement infernal des camps de concentration en termes dévastateurs: "Toute philosophie s'arrête à la clôture de barbelés et cette réalité, qu'au loin, de l'autre côté, on ne peut même pas imaginer, sinon on hurlerait de douleur, nous fait face dans sa totalité. La réalité est insurmontable; notre immense misère; chaque phrase décrivant la force de l'âme est dispersée par des larmes de faim et de froid."
Le roman graphique de Zograf nous rappelle la barbarie inimaginable des camps de concentration nazis et que l'Holocauste n'est pas une histoire qui s'est terminée par la mort des victimes, comme Hilda. En reproduisant les lettres d'Hilda sous une forme graphique, Zograf a fait en sorte que ses mots se répercutent dans le temps et que les horreurs de l'Holocauste ne soient jamais oubliées. Le Projet Nizkor est fier de participer à cet effort.
style="text-align: center;">CLIQUEZ ICI pour lire le roman, au bas de la page
Aleksandar Zograf est l'un des journalistes graphiques internationaux les plus en vue. Le roman graphique qu'il a réalisé à partir des lettres de Hilda a été présenté dans son plus récent livre intitulé "The Notebook of Radoslav and other World War II stories."
Le projet Nizkor a été créé par Ken McVay, un activiste basé en Californie qui a été le premier à lutter contre le négationnisme sur Internet au cours des premières années de ce média. Il a également joué un rôle majeur dans la lutte contre les négationnistes au fil des ans.
Le site Web a été offert à B'nai Brith Canada il y a plusieurs années. En raison de son format archaïque, il a fallu beaucoup de travail pour le réorganiser et le rendre enfin accessible.