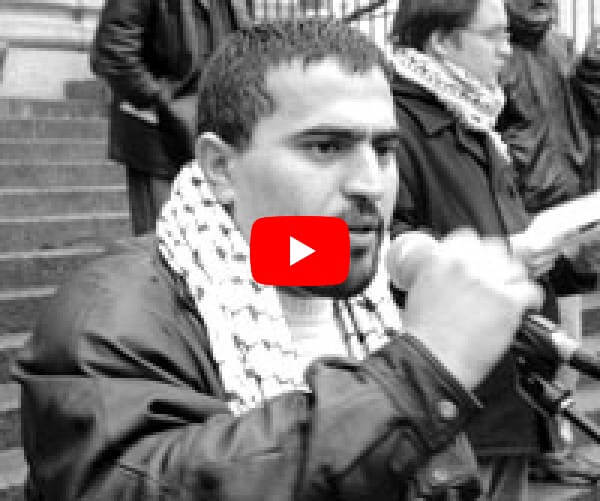 June 8, 2022
VANCOUVER – Video footage compiled by B'nai Brith Canada shows a leader of the Popular Front for the Liberation of Palestine (PFLP) confirming his involvement with the designated terrorist group.
B'nai Brith has put together a video of Khaled Barakat's speeches and newspaper articles where he admits his involvement with the PFLP. Barakat, the subject of a front-page exposé in the National Post , has been living in Vancouver with his wife, Charlotte Kates, a leader of the Samidoun Palestinian Prisoner Network, widely viewed as a front group for the PFLP.

For two years, B'nai Brith has been gathering intelligence, and urging the Government and all relevant law-enforcement agencies to act against Barakat.
Yet, despite multiple warnings and intelligence from B'nai Brith Canada, Ottawa has allowed Barakat to roam freely in Canada.
"In the PFLP, we accept people from any camp," Barakat said in a statement on video. He proceeds to call the PFLP's Secretary General, Ahmed Saadat, his leader and teacher and expresses his love and admiration for Sadaat. In another video, Barakat said: "The land is ours, from the sea to the river, we in the PFLP will remain holding onto this slogan."
On the PFLP website, Barakat is named "a leader of the PFLP", and a member of a PFLP delegation that visited South Africa.
"Although it is strictly forbidden for members of terrorist groups to enter Canada or obtain Canadian citizenship and despite repeated requests, Ottawa has not provided any explanation for its failure to act against Barakat," said Michael Mostyn, Chief Executive Officer of B'nai Brith Canada. "With this latest video proving unequivocally Barakat's senior involvement in a designated terrorist group, the Canadian Government now has sufficient evidence to deport him, and we hope it acts immediately to do so."
In recent years, the PFLP has massacred six people – including a Canadian – at a Jerusalem synagogue, fired rockets at Israeli civilians from the Gaza Strip, and murdered a young woman with an improvised explosive device.
Last week, despite warnings from B'nai Brith, Barakat was permitted to speak by the City of Ottawa at a conference on its municipally controlled property.