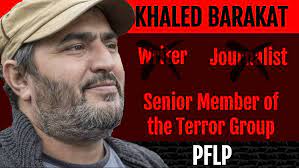 Khaled Barakat (Facebook)
June 3, 2022
OTTAWA – Khaled Barakat, the subject of a front-page exposé in the National Post recently, has been scheduled to speak at the 5th Assembly of the International League of Peoples' Struggle in Canada, (ILPS) at the Foster Farm Community Centre, which is owned and operated by the City of Ottawa.
B'nai Brith submitted a letter of complaint earlier this week to the City of Ottawa. The city responded with the following message:
"In light of the serious concerns that you raised in your letter, my staff have reviewed the bookings for the facilities identified and, in consultation with the City's Legal Services Branch, the terms and conditions governing the rental of those facilities. These standard rental terms provide that the City may refuse to provide use of the spaces under its control to 'an individual or group that supports or promotes views, ideas or presentations which promote or are likely to promote discrimination, contempt or hatred to any person on the basis of race, national or ethnic origin, color, religion, age, sex, marital status, family status, sexual preference, or disability, gratuitous sex and violence or denigration of the human condition.'
"The City takes these matters seriously and acknowledges its legal and Charter obligations regarding same. I can advise that I have contacted the event organizer/contract holder confirming the City's expectations and for their assurance that the activities taking place will comply with the City's requirements."
B'nai Brith is hopeful that Ottawa officials act appropriately and cancel the appearance of Barakat this morning, before he is scheduled to speak at 4pm Eastern.
"The PFLP is a terrorist group that continues to commit violent terrorist attacks against Jews," said Michael Mostyn, Chief Executive Officer of B'nai Brith Canada. "They have murdered innocent civilians, butchered rabbis in a synagogue, hijacked an aircraft and who knows what else?
"Insofar as the City of Ottawa prohibits providing venues to groups that promote hatred and commit violence, we trust that it will follow its own policy and prevent (Barakat) from addressing anyone at the community centre. We call on concerned citizens to contact City of Ottawa officials today and voice their concerns."
Also of concern to B'nai Brith is a scheduled appearance at the same venue this weekend of Charlotte Kates, who is a representative of Samidoun Palestinian Prisoner Network. Samidoun is widely considered to be a front for the PFLP. Kates is the wife of Barakat. The two have been living in Vancouver.
To express your objections to these appearances at a city venue, please contact:
Mayor Jim Watson:
613-580-2496
Councillor Theresa Kavanaugh:
613-580-2496
General Manager of Parks, Recreation and Cultural Services, Dan Chenier:
613-580-2400 ext. 24295
City Manager, Steven Kanellakos:
613-580-2400 ext. 25657
During the past month, B'nai Brith Canada has been calling for the deportation of Barakat in a petition. To support this, please sign the petition here.