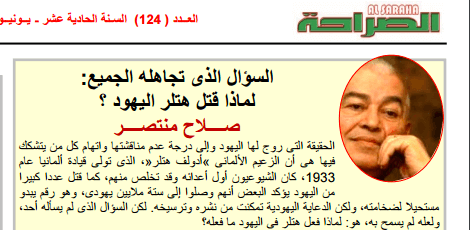 Fresh on the heels of B'nai Brith Canada's expose of an Ontario Arabic newspaper that attempted to justify Adolf Hitler's genocide of the Jewish people, a local immigration agency is distancing itself from the publication in question.
"The City of London and the London and Middlesex Local Immigration Partnership (LMLIP) do not condone the racist and homophobic views [contained in the article]," the agency said in a statement. "The LMLIP does not fund the newspaper in question."
The June-July issue of al-Saraha, published by local Palestinian Abdul-Hadi Shala, contained an article entitled, "The Question Which Everyone Ignores: Why Did Hitler Kill the Jews?" by Egyptian author Salah Montasser. The article falsely claimed that no more than 600,000 Jews were murdered by Nazi Germany, and blamed the Jews themselves for provoking Hitler's anger by spreading homosexuality and promiscuity in Germany and causing economic collapses.
Al-Saraha had been recommended by the LMLIP as a local media source for new immigrants, including Syrian refugees.
London Police Services reacted to B'nai Brith's expose by saying that they are "actively working on it." Police spokesperson Constable Chris Loizides told the London Free Press that his department is "reviewing the content to ensure whether it meets or does not [meet] criteria under the Criminal Code of Canada to be a Criminal Code offence… We have to see, is this free speech or is a Criminal Code Offence? Does it promote hatred or does it incite hatred? That determination needs to be made."
B'nai Brith has also attempted to contact Ontario Premier Kathleen Wynne's office and the members of her Liberal caucus who appeared in a full-page Ramadan Mubarak message mere pages after the antisemitic article in al-Saraha. As of 5 P.M. Thursday, B'nai Brith had received no response from the Premier's Office.
For more information contact:
Marty York
Chief Media Officer
B'nai Brith Canada
416-633-6224 x163
[email protected]