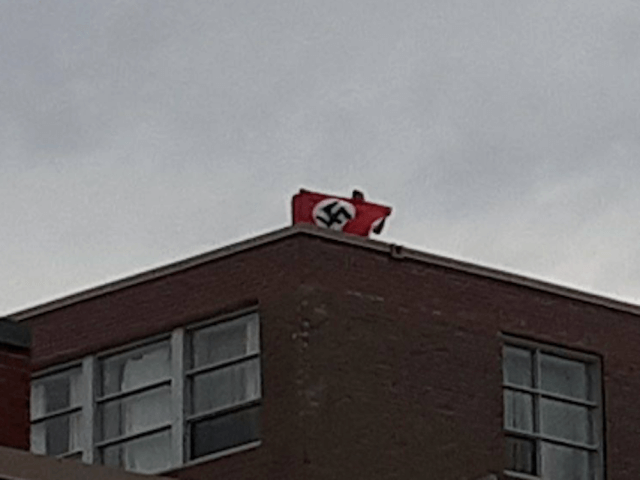 May 8, 2018
By Sara Gruszczynski
Communications Associate
B'nai Brith Canada
MONTREAL – Around 200 people marched through the Montreal neighbourhood of Parc-Extension Saturday to demonstrate against neo-Nazism in the city, chanting slogans such as "make racists afraid again" and "no fascists in our neighbourhood!"
The protest, which took place days after a man was caught waving a Nazi flag from the roof of his condo building, was an effort to push the condo building's board of directors to reveal his identity.
As the Montreal Gazette reports, the board released a statement ahead of the protest, condemning the flag-waver's actions but neglecting to reveal any further details in compliance with the police investigation.
It is not illegal in Canada to display a Nazi flag.
The protest took place in the wake of a controversy surrounding a local man who was identified by the Gazette as responsible for a smorgasbord of antisemitic material published on the infamous neo-Nazi site The Daily Stormer. Going by the pseudonym "Zeiger," the man – who the Gazette has identified as one Gabriel Sohier Chaput ­– is reportedly a 30-year-old IT consultant by trade, and a hate-monger by choice.
Zeiger has penned hundreds of articles for the antisemitic website, including one that takes aim at B'nai Brith Canada for leading a campaign to suspend disgraced University of Lethbridge professor Anthony Hall for his promotion of Holocaust denial.