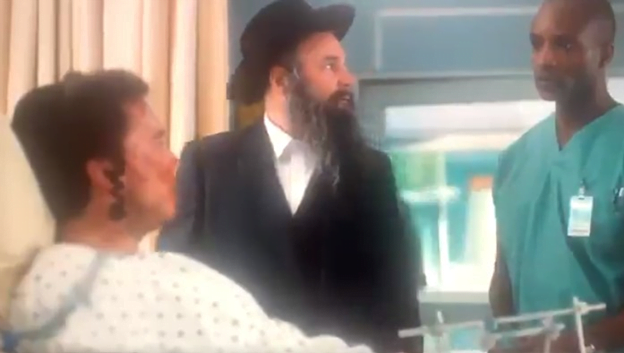 Feb. 25, 2021
TORONTO – Canada's second-largest private television network has apologized and removed an episode of one of its shows on the heels of outrage sparked by its offensive and inaccurate depiction of Hasidic Jews.
CLICK HERE TO READ THE LETTER OF APOLOGY TO B'NAI BRITH CANADA
As of Thursday morning, Episode 8 of Season 1 of Nurses was absent from Global TV's website. NBC, which had acquired the rights to the series in the United States, had taken the same step the previous day.
The impugned episode features a young Hasidic man and basketball player named Israel who suffers a serious leg injury, but refuses to accept a bone graft from a cadaver, which would be his only hope for recovery. His father then objects to the prospect of receiving a graft from "goyim," non-Jews, a woman or an Arab.
In reality, while Jewish law places a premium on the sanctity of the human body, even after death, the fact that the donor may be a non-Jew, a woman, an Arab or a fellow Jew is irrelevant. Moreover, saving a life takes precedence over almost all other considerations and religious commandments.
The episode in question first aired in Canada on Feb. 24, 2020, but was unfortunately not reported to B'nai Brith at that time. It sparked a furor online after airing in the United States this month, at which point B'nai Brith demanded that the episode be pulled and an apology issued by its Toronto-based producers, ICF Films, Entertainment One and Corus Entertainment, the last of which also owns Global TV.
"The removal of the episode by Global is a positive step," said Michael Mostyn, Chief Executive Officer of B'nai Brith Canada. "Unfortunately, this false and disturbing content has already been viewed by thousands of Canadians. Producers of content for television should learn from this and take active steps to ensure that shows are properly vetted and researched so that any misleading stereotypes are removed before they hit the airwaves.
"Canadian Jews, especially Orthodox Jews, face more than enough hate already without mainstream television networks making the problem worse."
B'nai Brith's Audit of Antisemitic Incidents for 2019, the latest year with full data, bore witness to 2,207 acts of violence, vandalism and harassment against Canadian Jews in 2019, the highest number on record and an 8% increase over 2018. Orthodox Jews are frequently targeted because they are more easily identified as Jews based on their mode of dress.
Orthodox Jews have also faced an unprecedented wave of attacks over the past two years – especially Hasidic Jews in the New York City area, the centre of the North American Hasidic community.
B'nai Brith thanks the many community members and organizations who got involved in this issue yesterday and helped to quickly bring about this positive result.