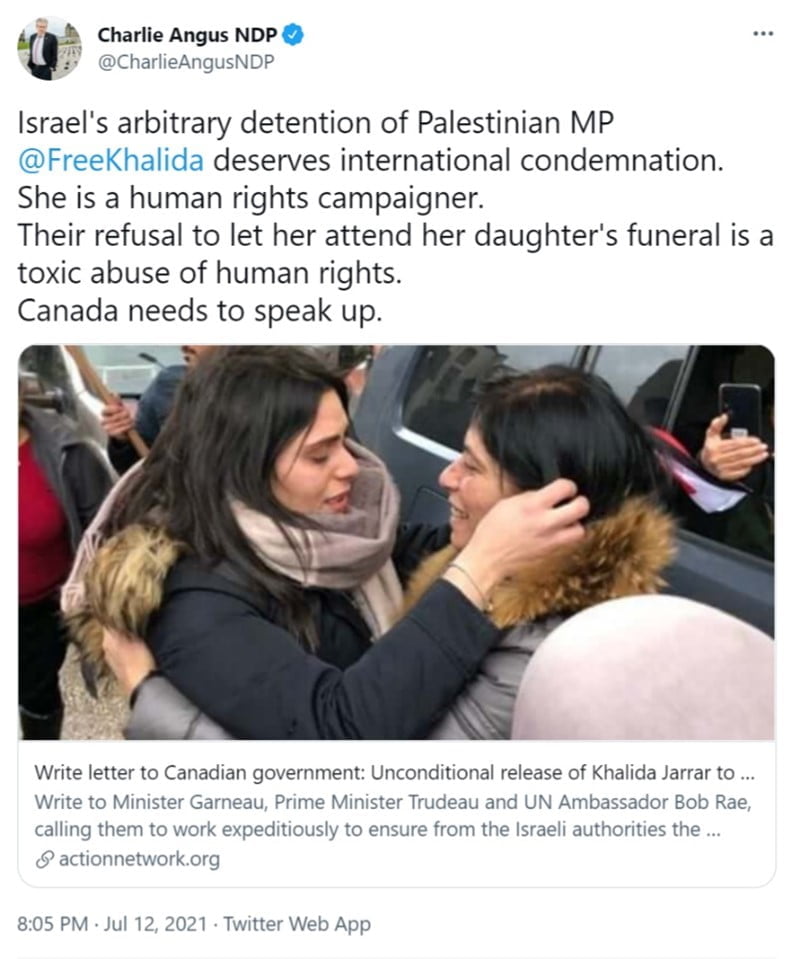 July 13, 2021
OTTAWA — B'nai Brith Canada is alarmed by the increasing frequency with which the federal New Democratic Party (NDP) turns a blind eye towards violence against Jews, both in Canada and beyond.
On Monday, NDP MP and Critic for Ethics Charlie Angus hailed Khalida Jarrar as a "human rights campaigner," and called for her release from Israeli jail. In fact, Jarrar is the senior political leader of the Popular Front for the Liberation of Palestine (PFLP), a designated terrorist entity in Canada that has murdered hundreds of people, including Canadian citizens.
In August 2019, a bomb planted by the PFLP killed Israeli teenager Rina Shnerb, and Jarrar is serving time for organizing Shnerb's murder.
Meanwhile, the NDP is failing to take action against an Ontario party official who endorsed the use of guns against "Zionists." The official in question is Shiam Abdelaal, Vice-President of the NDP Federal Executive in Oakville, southwest of Toronto.
When asked "whats your stance on guns?," Abdelaal replied with "Good if they are going to be used against the Zionists." When confronted by another member of the unofficial NDP Facebook group where the discussion took place, Abdelaal eventually edited her comment eight hours later to: "Good if they are going to be used to defend Palestinians against Zionists who are killing women and children."
Though the comments were made under the name "Shiam Ibrahim," B'nai Brith has verified that Abdelaal and Ibrahim are the same person.
"Jagmeet Singh is allowing the federal NDP to slide down a slippery slope of normalizing antisemitism, and needs to get a grip on his MPs and party members before it's too late," said Michael Mostyn, Chief Executive Officer of B'nai Brith Canada. "The past few months have seen an unprecedented increase in physical violence against Canadian Jews.
"It is utterly unacceptable, especially in this climate, that a Canadian MP would advocate for a senior leader of a terrorist group, or that a party member could call for guns to be used against Zionists — a term that broadly applies to most Canadian Jews in one way or another — without facing discipline."
"Picking on Jews is not a viable long-term political strategy. It failed for Jeremy Corbyn in the United Kingdom, and it will fail here as well."
In April, the federal NDP adopted a policy calling on Canada to single out Israel by banning arms sales to the Jewish state. Singh assured Canadians at the time that this did not indicate a tolerance for antisemitism within the NDP, but has failed to translate his words into action.
To email federal NDP Leader Jagmeet Singh directly, please click here.