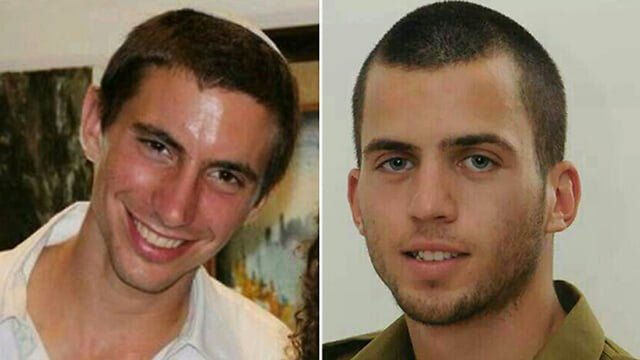 By Reut Cohen
B'nai Brith Canada
Israel's Channel 10 News is reporting that the families of deceased soldiers will meet with Israeli Prime Minister Benjamin Netanyahu and UN Secretary General Ban Ki-moon Tuesday, following outcry over Israel's new agreement with Turkey.
The families of the deceased soldiers allege that Netanyahu had promised them the deal would include stipulations for the release of their sons' remains from Gaza.
Lt. Hadar Goldin and Sgt. Oron Shaul were killed in the during Operation Protective Edge in the summer of 2014. Hamas has demanded that Israel release prisoners in exchange for the soldiers' repatriation on multiple occasions.
While Netanyahu stated that Turkey does not have control over Hamas's actions, both soldiers' mothers are skeptical.
"Turkey is Hamas's patron," said Dr. Leah Goldin, mother of Lt. Goldin to The Algemeiner. "It is the country closest to Hamas and most concerned with taking care of Hamas interests," said Dr. Goldin. "It cannot be that Turkey has no say."
"There's no point in waiting on the prime minister's promises," said Zehava Shaul, mother of Sgt. Shaul. "He doesn't take the bereaved families into consideration. The conclusion I have reached is that Prime Minister Bibi only takes care of Gaza, not his own soldiers."
Hamas is also holding two Israeli citizens in captivity, Hisham Al-Sayed, a Bedouin, and Avraham Mengistu, of Ethiopian descent. Hisham's father, Sha'aban al-Sayed, told Haaretz that members of the Arab Joint List party, as well as Bedouin leaders in the Negev, have been of little assistance in determining his son's fate after he crossed into Gaza in April 2015. Sha'aban alleges that his requests have gone unanswered because "they want Hamas to think they're nationalists." On two previous occasions, Hisham had crossed into Gaza but was returned to Israel by Hamas.
According to his family, Mengistu suffers from mental illness and stumbled across the Gazan border in 2014. His relatives demand Turkey to obtain proof of life as a condition of the deal, and took part in protests outside Netanyahu's residence on Sunday. "
"We put our trust in the Israeli government and Knesset to do their job faithfully," said Ilan Mengistu, Avraham's brother to Channel 2. "Given the upcoming deal with Turkey, we feel as though we've been fooled."
Channel 10 also announced that polling results reveal widespread opposition to the deal amongst Israelis, with 65% of Jewish Israelis were opposed. Only 33% of all 600 Israelis polled were in support of the deal, while the 100 Arab Israelis polled supported it by 72%.
The agreement was formally announced Monday, after months of negotiations.