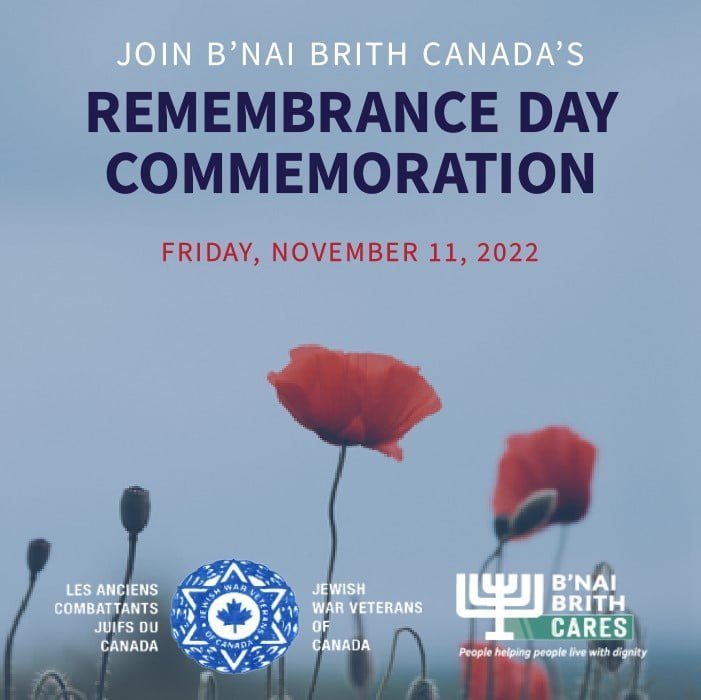 Remembrance Day Commemoration 2022
Join us on Remembrance Day to virtually commemorate the Jewish contributions to Canadian war efforts throughout history. Remembrance Day allows us to acknowledge the sacrifice of our war veterans in the constant struggle for peace, freedom and democracy.
Join B'nai Brith Canada's
REMEMBRANCE DAY COMMEMORATION
FRIDAY, NOVEMBER 11, 2022
11:00am Eastern | 10:00am Central | 9:00am Mountain | 8:00am Pacific |12:00pm Atlantic | 12:30pm Newfoundland
B'nai Brith Canada will hold this event in conjunction with the Jewish War Veterans of Canada.
National Program:
Michael Mostyn
CEO, B'nai Brith Canada
Norm Gardner
Toronto Post Commander, Jewish War Veterans of Canada, Toronto, ON
H.E. Dr. Ronen Hoffman
Ambassador of Israel to Canada, Ottawa, ON
The Hon. Lawrence MacAulay
Minister of Veteran Affairs and Associate Minister of National Defence MP – Cardigan, PEI
Melissa Lantsman
Deputy Leader, Official Opposition MP – Thornhill, ON
Rachel Blaney
NDP critic for Veterans Affairs MP – North Island-Powell River, BC
Luc Desilets
Vice-président Comité, permanent des anciens combatants Député fédéral de Rivière-des-Mille-Îles, QC
Lorne Winer
WWII Veteran, Toronto
Lieutenant Sherri Gelbard
Canadian Armed Forces Base, Borden, ON
Dr. Bill Novick
WWII Veteran, Montreal, QC
Capt. (Rabbi. Dr) Noteh Glogauer
4th Canadian Division HQ/Joint Task Force (Central) Canadian Armed Forces, Toronto, ON
Cantor Yaacov Orzech
Congregation Schara Tzedeck, Vancouver, BC
Mal Magorel
Singer/songwriter & Event Vocalist, Winnipeg, MB
Guy Mannheim
World-renowned tenor and educator, Toronto, ON
Joel Gray
Trumpeter and music educator, Edmonton, AB
Hourly Schedule
Remembrance Day Commemoration