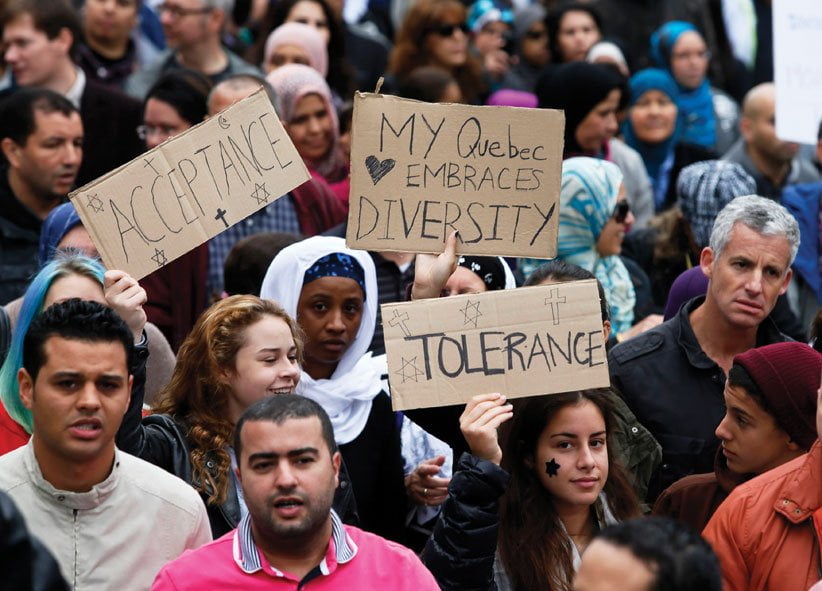 Feb. 14, 2019
QUEBEC CONFIDENTIAL | By Mike Cohen
The opinions, facts and any media content presented do not necessarily reflect the position of B'nai Brith Canada.
MONTREAL – With the Quebec National Assembly officially in session, members of the province's multicultural communities are feeling uneasy as the newly elected Coalition Avenir Quebec (CAQ) looks to adopt legislation banning religious symbols in public.
The affected parties will include "persons of authority" such as judges, police offers and teachers who will be barred from wearing symbols and head coverings like the kippah, turban, or hijab.
Full disclosure: I work, by day, at Quebec's largest English public school board. We have been through this dance before.
Six years ago, the last short-lived Parti Québecois minority government tried to push something similar through its controversial Charter of Values. Because the party lacked majority status, the legislation simply served to brew intolerance in the province. Then leader Pauline Marois made it a centrepiece in a general election that she herself called for. Her party was trounced by the Quebec Liberals and it seemed that the issue was dead and buried.
Today, despite the chorus of voices decrying the proposed legislation as being antithetical to the Charter of Rights and Freedoms, which grants freedom of religion and belief to all Canadians, it appears some things have changed.
The CAQ, led by Premier François Legault,  was quite vocal well before, and during, the recent provincial election campaign about its aim to abolish religious symbols in public. This time, however, not only did the party win handily, but it appeared that public opinion was on its side.
A recent CROP poll for Radio-Canada shows that the majority of Quebecers support the CAQ government's proposed ban of religious symbols. The same poll suggests that two-thirds of Quebecers agree with the party's plan to slash the number of immigrants entering Quebec from 50,000 a year to 40,000.
It is expected that Legault will table his bill on religious symbols soon. It has been in the hands of government lawyers for months and will be the subject of hearings.
Responding to criticism about the ban, Legault said that the CAQ's proposals are "reasonable."
"We say we want to ban religious signs but only for people in an authority position. I think it's about time we move (on this) and then talk about more important subjects," he said.
Whether or not the new legislation will include a grandfather clause for existing teachers remains to be seen. But from my personal experience in the Quebec school system, what I can say is that teachers (religious, secular or otherwise) are worried about how this will affect minorities.
Some say the proposed legislation could amount to outright discrimination. Following the CAQ's October victory, for example, B'nai Brith Canada shared its concerns and called on the party to "avoid the slippery slope of diminishing fundamental rights."
.@mikecohencsl: The #CAQ must completely backtrack from its proposed ban on #religious symbols. Any grandfather clause will mean nothing to observant Jews, Muslims and Sikhs who are looking to find employment in Quebec's public sector. #qcpoli #OpEd https://t.co/dk1WcdHl4r

— B'nai Brith Canada (@bnaibrithcanada) October 12, 2018
"The banning of religious symbols, and the possible firing of public employees who freely express their religious beliefs, is an assault on the fundamental rights and freedoms of all Quebecers," said Harvey Levine, B'nai Brith's Quebec Regional Director.
Legault appears to be blasé about the ban and that it isn't an "important" issue. But what of the religious Jewish schoolteacher in Outremont who has been wearing his kippah to work for the past 35 years. Will this decision not affect his rights as a Canadian to proudly display his religion? Will this not make him feel singled out and ostracized for being a proud, pious Jew?
Or what of the devout Muslim schoolteacher in Quebec City who wears a hijab? Should she not be afforded the same freedoms as other educators in the province? Is this really the right discourse we should be teaching at schools, the epicentre of where children learn about values, tolerance and principles? Does this not have the makings of something that could truly offset the progress we've made in respect to understanding diversity and multiculturalism in Canada?
Legault may indeed believe he has the Quebec people on his side, but think of the impact on his image as Premier when he tries to force a school board from firing a teacher who wears a hijab or a kippah.
Is that the kind of reputation he wants to project around the world?
Mike Cohen is B'nai Brith Canada's Quebec news bureau chief, a veteran writer and municipal politician. He can be reached at [email protected]. Follow him on Twitter at @mikecohencsl.