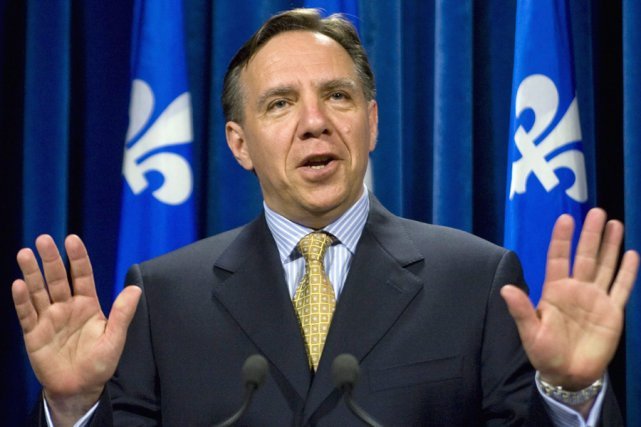 Oct. 11, 2018
QUEBEC CONFIDENTIAL | By Mike Cohen
The opinions, facts and any media content presented do not necessarily reflect the position of B'nai Brith Canada.
MONTREAL – For most new governments, municipal, federal, or provincial, there's a honeymoon period. In Quebec, that has hardly been the case for Premier-elect François Legault, whose Coalition Avenir Québec (CAQ) won a strong majority in the Oct. 1 provincial election with 74 seats compared to 32 for the Liberals, 10 for Québec Solidaire and 10 for the Parti Québecois (PQ).
Premier Philippe Couillard resigned his seat the following day and another Liberal MNA, Guy Ouellette, was kicked out of the caucus. After a recount in one riding earlier this week, the Liberals' count was at 29 members.
Legault has not even been sworn in yet (that won't happen until Oct. 18) and no cabinet ministers are in place. Yet, the only issue any Quebecer is raising with the CAQ relates to his campaign promise to introduce legislation that would ban public sector employees from wearing religious symbols such as the kippah or hijab.
Criticism from all sides of the political spectrum has been pouring in and is likely more severe than Legault anticipated. The fact he was congratulated for his position by xenophobic French politician Marine Le Pen was almost the kiss of death. A protest rally by anti-racism advocates took place last weekend, tearing Legault and the CAQ to shreds.
B'nai Brith Canada was the first Jewish organization to come out strongly against the proposed legislation. The CAQ must "avoid the slippery slope of diminishing fundamental rights and work instead to secure religious liberties for all Quebecers," the group's Quebec Regional Director, Harvey Levine, said. "The banning of religious symbols, and the possible firing of public employees who freely express their religious beliefs, is an assault on the fundamental rights and freedoms of Quebecers."
B'nai Brith Canada is strongly urging @francoislegault and the @coalitionavenir to reconsider adopting a ban on religious symbols. "This is an assault on the fundamental rights and freedoms of Quebecers," says our #Quebec Director Harvey Levine. #qcpoli https://t.co/lnIHJCkhpU

— B'nai Brith Canada (@bnaibrithcanada) October 5, 2018
However, earlier this week, reacting to a barrage of attacks, the CAQ seemed to backtrack. Despite Legault's insistence that he would not budge from his position, nor would he grandfather in any existing civil servants and their religious observances, MNA Simon Jolin-Barrette, who will likely serve as Quebec's next Justice Minister, said it was a possibility.
"Our position has always been to say, listen, there's no grandfather clause. That said, we're ready to discuss it with the opposition parties. It's important to pass a law that will establish laïcité, but we'll certainly collaborate with the opposition," he said.
Human-rights organizations like B'nai Brith will certainly not accept this as a compromise. Any grandfather clause will mean nothing to observant Jews, Muslims and Sikhs who are looking to find employment in the public sector.
A ban on religious symbols in public life in Quebec has been a heated topic of debate in the province for more than a decade. Couillard's government passed legislation last October that banned face-coverings when giving or receiving public services, but strongly opposes Legault's plan. The PQ, which was decimated and lost official party status, also has no leader with Jean-Francois Lisée resigning as well.
Québec Solidaire, which like the PQ is a separatist party, more than tripled its representation in the National Assembly.
Legault also plans to abolish public school boards, two of which (the English Montreal School Board and the Lester B. Pearson School Board) include a number of Jewish elected officials.
One has to wonder what is going through Legault's mind right now. He should be celebrating the realization of a lifelong dream to lead his province. Instead he is under attack.
This is a dossier that B'nai Brith Canada will certainly follow closely. 
Mike Cohen is B'nai Brith Canada's Quebec news bureau chief, a veteran writer and municipal politician. He can be reached at [email protected]. Follow him on Twitter at @mikecohencs