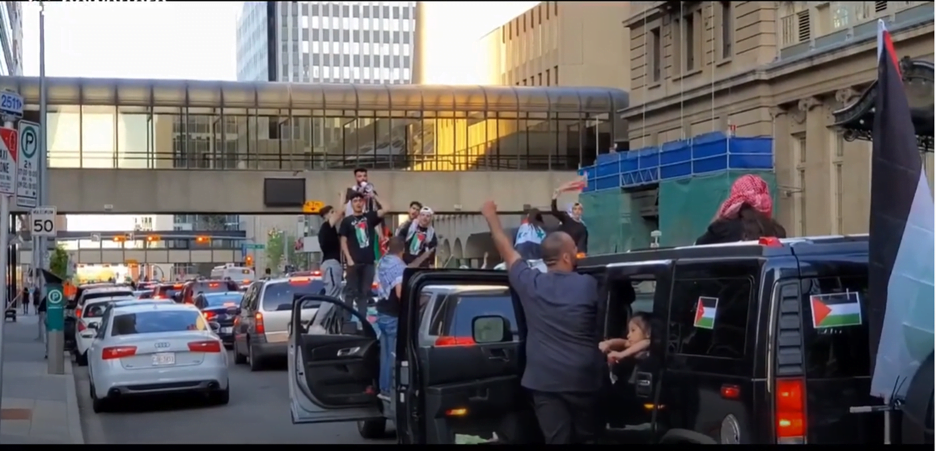 May 26, 2021
CALGARY – B'nai Brith Canada is calling for charges and a political response after protesters in Calgary called for violence against Jews during protests over the recent Israel-Hamas engagement.
On May 16, thousands of people took part in an anti-Israel protest in Alberta's largest city. The Calgary Police Service issued around 100 tickets to demonstrators for unsafe driving, such as running red lights and blocking intersections.
What escaped notice at the time, however, is that some protesters also called for violence against Jews. One video shows protesters at 9th Ave SW and 1st Ave SW – in the very heart of Calgary – chanting in Arabic: "Remember Khaybar, oh you Jews, the Army of Muhammad will return!" Khaybar refers to a famous battle in 628 CE, in which Muhammad's Muslim army defeated and then slaughtered or exiled the Jewish tribes of the Arabian Peninsula. The chant therefore advocates violence against Jews in the diaspora, not just in Israel.
That same evening, protesters elsewhere in downtown Calgary recited the same bloodcurdling chant.
B'nai Brith has reported these incidents to the Calgary Police Service.
"Threats to harm Jews in Canadian cities must not be tolerated," said Michael Mostyn, Chief Executive Officer of B'nai Brith Canada. "The only way to prevent these threats from escalating to physical violence is to punish those calling for such violence now to the full extent of the law.
"We also call on elected officials, such as Calgary Mayor Naheed Nenshi, to show leadership at this time and unequivocally condemn antisemitism, no matter its source."
The same antisemitic Khaybar chant was performed at an anti-Israel protest in Toronto earlier this month. B'nai Brith has documented its use in Mississauga, just west of Toronto, as early as 2017. It has also been deployed in London, England and Belgium in recent weeks.
Since fighting between Israel and the Hamas terror group began in early May, Jews across Canada have been subjected to an unprecedented wave of violence, vandalism and harassment, especially online. B'nai Brith's Anti-Hate Hotline has already recorded more antisemitic assaults in May of 2021 than in all of 2020 combined.
B'nai Brith encourages members of the community suffering from antisemitism to contact [email protected] for incidents involving violence, vandalism or harassment in the "real world," or [email protected] for incidents occurring online. You can also contact us on Facebook or Twitter.