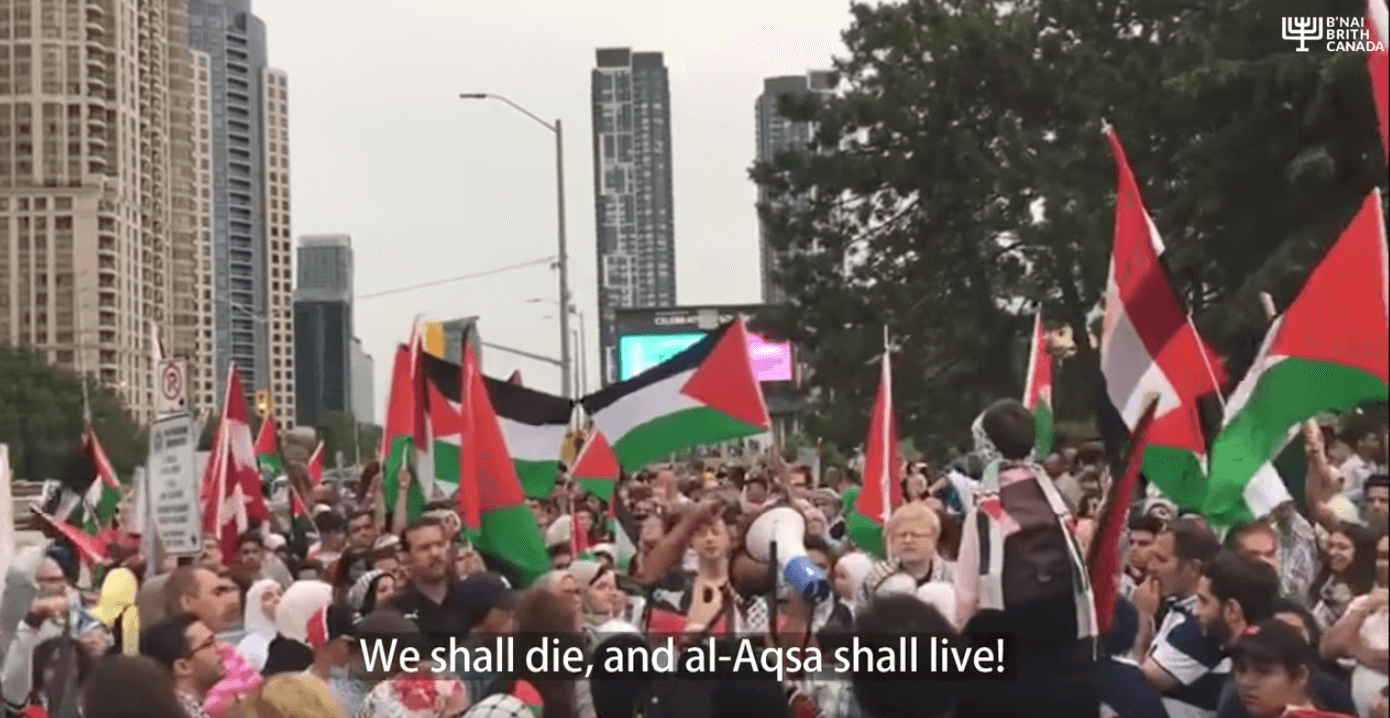 Click the image above to watch footage from the protests
By Aidan Fishman
Campus Advocacy Coordinator
B'nai Brith Canada
July 28, 2017
MISSISSAUGA, Ont. – B'nai Brith Canada is demanding that Peel Regional Police open an investigation into a July 22 protest in Mississauga, Ont., wherein participants incited violence and promoted hatred against the Jewish community.

Videos recorded at a rally in the municipality just west of Toronto show protesters chanting in Arabic: "Remember Khaybar, oh you Jews, the Army of Muhammad will return!" Khaybar refers to a famous battle in 628 CE in which Muhammad's Muslim army defeated and then slaughtered Jewish tribes in the Arabian Peninsula.
Other recordings of the protest feature young children shouting that "Israel and Hitler are the same," along with attendees chanting in Arabic: "With our souls, with our blood, we shall redeem al-Aqsa!," in reference to the Jerusalem mosque that has been at the centre of tensions over the past two weeks, since terrorists murdered two Israeli police officers at the site.
"These vicious and antisemitic chants are antithetical to our vision of a free and tolerant Canada," said Michael Mostyn, Chief Executive Officer of B'nai Brith Canada. "We have reported our findings to the Peel Regional Police, as we cannot allow parents to indoctrinate their children to hate their neighbours."
On July 24, police revealed that they had charged a Mississauga man, Kevin Johnston, with willful promotion of hatred against Muslims.
Notable figures from Mississauga's Arab community participated in the July 22 protest, even as antisemitic chants echoed around them. Amin El-Maoued, Head of Public Relations for Palestine House, was even seen holding a bullhorn and leading the crowd.
Harry Ziad Malawi, President of the Jordanian Canadian Society and the Canadian Arab Network, was also in attendance.  Interestingly, Malawi is on the record as saying, "A hate crime against the Jewish community is a hate crime against all Canadians."
Attempts to reach Malawi and El-Maoued for comment by B'nai Brith were unsuccessful.