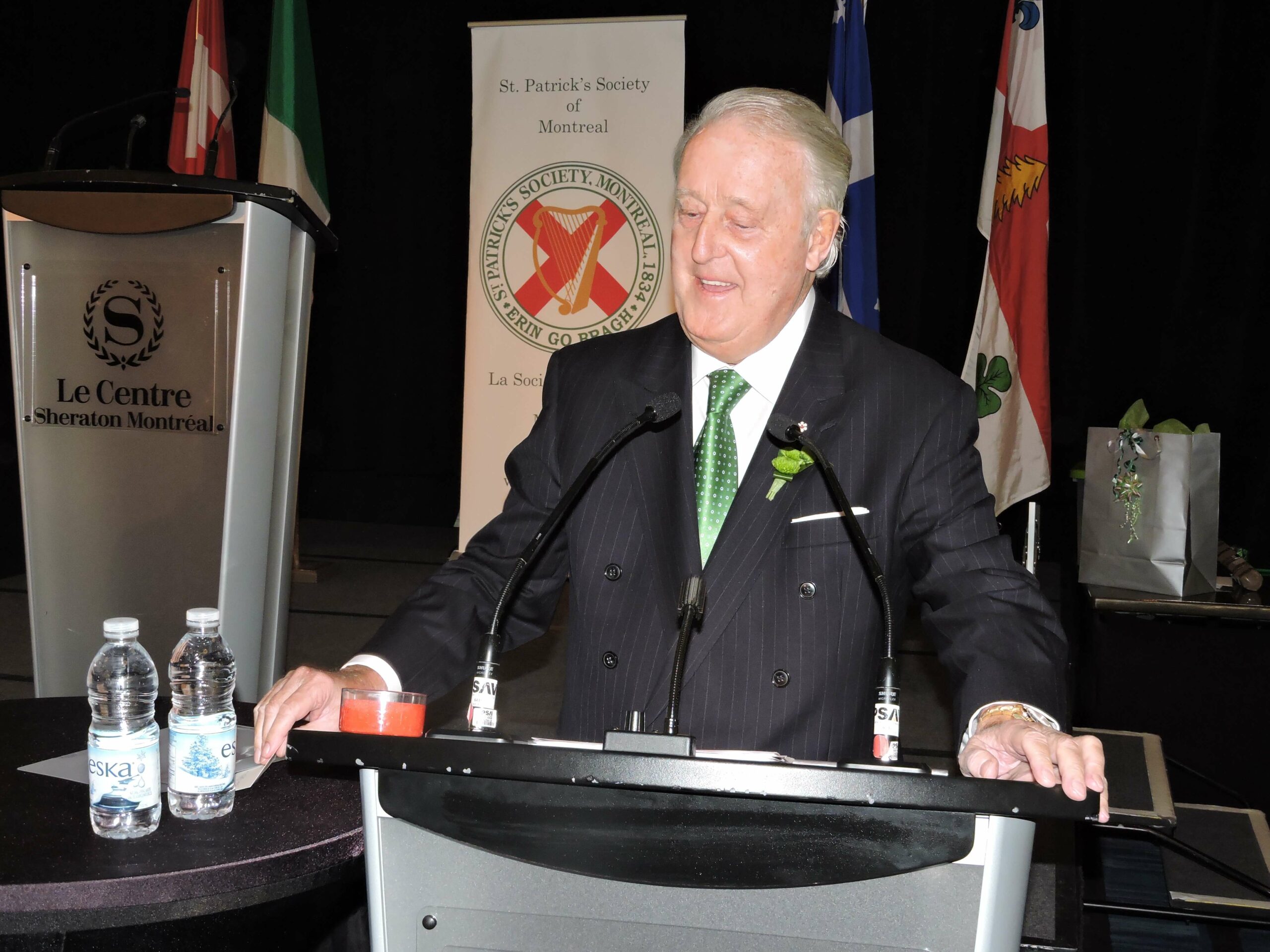 March 26, 2019
QUEBEC CONFIDENTIAL | By Mike Cohen
MONTREAL – Even at the annual St. Patrick's Day luncheon in Montreal, a time to salute the Irish, former Canadian Prime Minister Brian Mulroney found a way to use the opportunity to show his support for Israel.
Mulroney turned 80 a few days ago, but he still knows how to work a crowd. In the VIP room before the high-profile luncheon attended by more than 600 people at Le Centre Sheraton, I was among the lucky ones to get to briefly chat with him as he shook hands with guests. I personally thanked him for all the support he gave the Jewish community and the State of Israel during his nine years as Prime Minister.
It was Mulroney who created the Commission of Inquiry on War Criminals in Canada, often referred to as the Deschênes Commission, in February 1985 to investigate claims that Canada had become a haven for Nazi war criminals. Headed by retired Quebec Superior Court judge Jules Deschênes, the commission delivered its report in December 1986 after almost two years of hearings.
Unfortunately, the report has never been released in its entirety, and none of the former Nazis identified faced justice. In fact, B'nai Brith continues to urge the Government of Canada to immediately deport former Nazi Helmut Oberlander, a member of a notorious Nazi killing squad who somehow remains in Canada.
B'nai Brith also continues to bring attention to the issue of Nazi glorification in Europe, most recently with an op-ed in Sun newspapers about putting an end to such public rallies and demonstrations.
---
Following our op-ed in Sun Media papers, @CanadaFP has rightfully condemned the rally in #Latvia commemorating the Nazi SS. "Canada is strongly opposed to the glorification of Nazism and all forms of racism, racial discrimination, xenophobia…." #cdnpolihttps://t.co/fGFjYyIjiY

— B'nai Brith Canada (@bnaibrithcanada) March 21, 2019
I will always remember Nov. 4, 1995, the night then Israeli Prime Minister Yitzhak Rabin was assassinated. I was working for the now defunct Canadian Jewish Congress and called in that Saturday night to handle media responses. Our president was with me when my phone rang and a familiar voice asked if he could speak to her. It was Mulroney, two years removed from office, who wanted to express his condolences to the Jewish community.
Mulroney even joked to the room at the St. Patrick's Day luncheon (Jewish standup comic Joey Elias was the chief reviewing officer for the parade) that it might not be too late for a comeback, even at 80. He alluded to Malaysian President Mahathir bin Mohamad, who ran again for office at the age of 92 and won after 15 years of retirement – despite his antisemitic leanings, mind you. "So I think I can run and have a winning slogan," he said. "Give me a chance."
Most recently, in a speech to members of the Lord Reading Society of Jewish lawyers, Mulroney denounced antisemitism in the strongest of terms. "Antisemitism is born in ignorance and nurtured in envy," he said. "It is the stepchild of delusion and evil. The ongoing success of Canada's Jewish community is consequently often misunderstood, misrepresented and misreported. The rise in the number of attacks on Jews and Jewish institutions in Canada testify to the intractability of the problem and the constant need for vigilance, consistency and strength in dealing with the entire sweep of antisemitism."
Mulroney also quoted B'nai Brith, noting that antisemitic incidents are on the rise around the world, including in Canada. He cited B'nai Brith's 2017 Audit of Antisemitic Incidents, which recorded a  26 per cent increase in antisemitism compared to the previous year, with a record-high 1,752 incidents.
---
There were 474 acts of antisemitism in #Quebec in 2017, 27% of Canada's total. But there are also many incidents that are never reported, particularly in the Hassidic community of #Outremont, "where intolerance has been rampant for years." #BBAudit2018 https://t.co/AT2DeTZuEs

— B'nai Brith Canada (@bnaibrithcanada) April 27, 2018
Alluding to the United Kingdom, he spoke of  a "clueless leader of the official opposition (who) directs a motley and pathetic crew that includes open antisemites and proud opponents of Israel," then moved on to Europe, citing Jeffrey Goldberg's report in the Atlantic on how 51 per cent of all racist attacks in France target Jews, despite only accounting for one per cent of the population.
He also noted that a Democratic representative in the U.S House of Representatives "aroused enormous concerns when she publicly decried 'dual loyalties involving American Jews and Israel.'"
So what new steps can be taken? Mulroney recommends that the federal government should consider the appointment of a Blue Ribbon Panel composed of Canada's most distinguished citizens. "They could examine the growth of Holocaust denial, introduce action in cooperation with the provinces and territories of obligatory education about the Holocaust and the courageous history of Jewish survival, and urge the consideration and implementation of a national action plan to combat antisemitism, as Norway and France have done," he said.
This echoes one of B'nai Brith's long-standing proposals as part of its Eight-Point Plan to Tackle Antisemitism: implementing a national action plan to combat antisemitism.
---
To combat anti-Jewish hatred, B'nai Brith is proposing an Eight-Point Plan to Tackle Antisemitism, incl. a no-tolerance approach to public funding of events that allow it, government action against #antisemitism on campus and adopting a National Action Plan. #BBAudit2018 #cdnpoli pic.twitter.com/ZyKhhGZoDe

— Michael Mostyn (@MichaelMostyn) April 25, 2018
"Only if Canada reaches out to our youth to obliterate antisemitism … will real progress be made in a manner that will honour our citizenship in this splendid country of which we are all so proud," he said.
Mulroney also spoke of his "extremely strong stand" against antisemitism as Prime Minister. "I stood proudly with the Jewish community and with those determined to provide unshakeable support for the State of Israel. Let us always maintain that noble tradition. Leaders must have vision and they must find the courage to fight for the policies that will give that vision life. Leaders must govern not for easy headlines in 10 days but for a better Canada in 10 years — and they must be ready to endure the attacks that often accompany profound or controversial change, while they await the distant and compelling sounds of a verdict that only history and a more reflective nation can render in the fullness of time."
Mike Cohen is B'nai Brith Canada's Quebec news bureau chief, a veteran writer and municipal politician. He can be reached at [email protected]. Follow him on Twitter at @mikecohencsl.