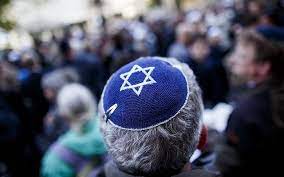 CLIQUEZ ICI pour le français
September 8, 2022
MONTREAL – At a press conference this morning, B'nai Brith Canada revealed it has asked all the provincial Ministers of Justice and Public Security, except for Quebec's, to emulate the forward-looking example of the State of Connecticut.
"Following Connecticut's example will permit Canadian police departments to benefit from a larger, more diverse, pool of talented candidates," said Marvin Rotrand, B'nai Brith Canada's National Director of its League for Human Rights. "In all cases, the departments we surveyed say the minor uniform changes are supported by the public and that officers wearing religious symbols are as professional and effective as officers who don't. A province-wide law means that local departments don't have to be convinced one at a time to have more accommodating uniform regulations."
A survey recently conducted by B'nai Brith on police uniform policies showed that over the past two years, many more departments in the United States and Canada have changed the rules to ensure that qualified candidates from religious minorities could be hired.
Our survey revealed that the Canadian military, the Royal Canadian Mounted Police, the Ontario Provincial Police, the Toronto Police Service, the Vancouver Police, Calgary Police Service, Halifax Police and many others, are all now hiring candidates wearing turbans, hijabs and kippahs. This follows the example of many American police departments that have long adopted such policies.
Several police departments have agreed to work with B'nai Brith to ensure that officers have access to an approved kippah. For its part, the RCMP agreed to allow officers to wear their own kippahs until such time as an approved version is available in the force's stores.
The survey also showed that Quebec is an anomaly in having a provincial law imposed on its police departments that prevents qualified candidates who wear religious symbols from serving.
"There is no proof that Quebec's prohibition on officers wearing religious symbols provides any benefit," said Michael Mostyn, B'nai Brith Canada's Chief Executive Officer.
Our communications with major police departments allows B'nai Brith to conclude that:
Quebec has offered no proof that a police force that bans religious symbols is more effective;
the trend in policing across the United States and Canada is increasingly to allow officers to wear religious symbols;
jurisdictions are more than ever concluding that a more diverse police department is an asset;
there is no proof that an officer wearing a religious symbol is less professional or effective than one who does not
Flanked by leaders of various religious and racial minorities at a press conference today, B'nai Brith shared State Bill 133 which requires all police departments within Connecticut to comply by October 1, 2022.
State Bill 133 requires all police departments within the State of Connecticut to comply with the following policy:
(b) "Not later than October 1, 2022, each law enforcement unit shall adopt or amend a policy to permit a police officer to wear a religious head covering in accordance with the police officer's religious beliefs while the police officer is on duty and wearing a uniform or other authorized attire, except where the use of tight-fitting protective headgear is required by such law enforcement unit."
B'nai Brith is hopeful that the Connecticut law will become the norm across North America in the next few years.