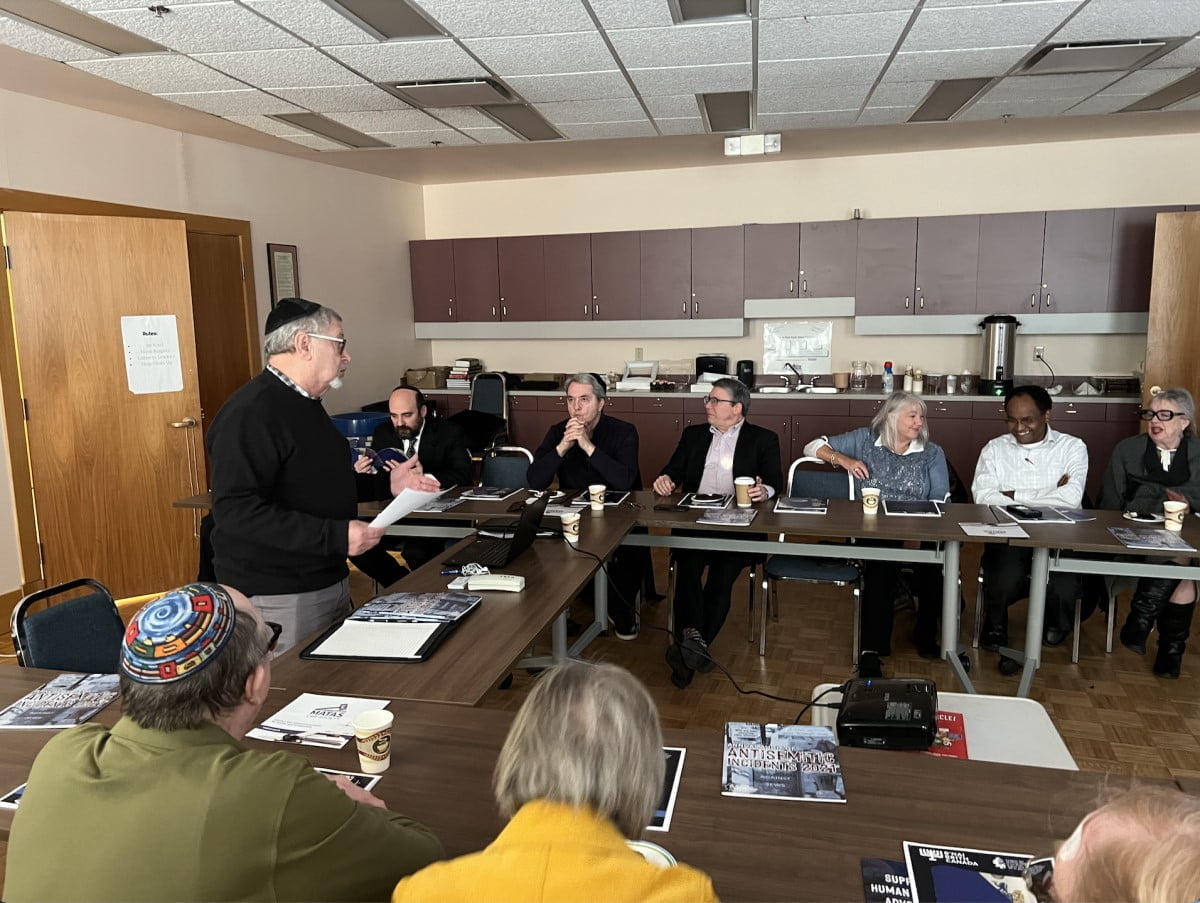 March 24, 2023
EDMONTON – B'nai Brith Canada hosted Thursday the second of its symposium series on the International Holocaust Remembrance Alliance (IHRA) definition of antisemitism.
The second roundtable took place in Edmonton. Earlier this month, B'nai Brith opened its series in Vancouver. The events are designed to promote the importance of adopting the IHRA definition of antisemitism in as many government bodies, jurisdictions and organizations as possible.
The B'nai Brith IHRA series is made possible in part by the support of the Government of Canada, through the Community Support, Multiculturalism, and Anti-Racism Initiatives Program. The symposium series creates opportunities for community members and stakeholders to gather and discuss strategies for combating hate across Canada. In attendance at the Edmonton IHRA symposium were Michael Mostyn, Chief Executive Officer of B'nai Brith Canada, Abe Silverman, Manager of Public Affairs, Alberta, and dozens of local community leaders concerned with antisemitism in Alberta and beyond.
"Antisemitism and hate have no place in Canada and anywhere else," said The Honourable Ahmed Hussen, Minister of Housing and Diversity and Inclusion. "We will continue to work with the Jewish communities and organizations like the B'nai Brith National Organization of Canada to improve the understanding of antisemitism and fight hate and systemic discrimination in all its forms."
At the symposium, B'nai Brith leaders shared with participants the history of antisemitism, the ability of the IHRA definition to combat and identify hate and the definition's practical applications. Participants were encouraged to ask questions, make recommendations and collaborate in pursuit of constructive solutions.
More B'nai Brith symposia will take place in the coming weeks and months across Canada.
B'nai Brith's League for Human Rights has discovered that antisemitic incidents have decreased in some jurisdictions that have adopted the IHRA definition.
The IHRA definition, the democratic culmination of leading scholars' collaborations for many years, is the world's foremost definition of antisemitism. It is a pragmatic and flexible "working" definition, rather than a rigid formula. For domestic purposes, it should be viewed as a practical tool for institutions to use in fulfilling their mandates as they pertain to antisemitism in Canada.
"We were pleased to have brought our IHRA symposium to Alberta as it gave us a critical opportunity to engage in regional dialogue, rooted in the latest research, on practical tools to effectively combat antisemitism," Mostyn said. "We appreciate the Government of Canada's support of this project and consider it a prime example of non-profits collaborating with Governments to effect positive change.
"Last week, the Legislative Assembly of Alberta voted for a motion, introduced by MLA Richard Gotfried, to endorse the IHRA definition of antisemitism, calling for its implementation further to the province's formal adoption last fall. We are most pleased to bring our symposium to Alberta's capital at this opportune time, and hope it adds to the positive momentum taking place in the province."