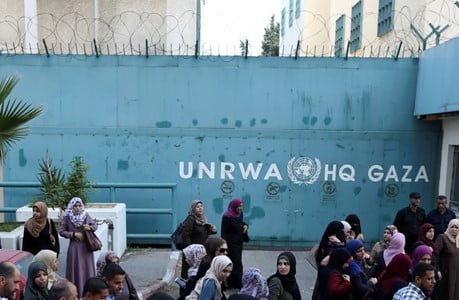 September 21, 2023
OTTAWA – Poetry glorifying terrorists. History lessons erasing Israel's Jewish history. Math problems encouraging youth to engage in violence against soldiers.
Such detestable, often antisemitic, content is commonplace in the curriculum taught throughout areas under the control of the Palestinian Authority (PA), including in United Nations Relief and Works Agency for Palestinian Refugees in the Near East (UNRWA) schools.
Despite having been previously alerted to this serious issue by B'nai Brith Canada, the Federal Government announced last June that it would contribute up to $100-million over the next four years to UNRWA. According to UNRWA's own website, more than 58 per cent of the funding the agency receives is directed towards education.
During a virtual news conference today, B'nai Brith Canada's Michael Mostyn, Richard Robertson and David Granovsky – Chief Executive Officer, Research Manager and Government Relations Director, respectively – made public a damning new report exposing how the PA's curriculum, as supported by UNRWA, indoctrinates hate and is contrary to the UN's sustainable development goals.
For years, Canada has allowed its taxpayer funded generosity to be misused to create a dangerous curriculum that teaches hate, normalizes violence, condones terrorism and diminishes the prospect of peace in the Middle East.

B'nai Brith is demanding a forensic audit of Canada's contributions to UNRWA to determine what proportion of our annual UNRWA donations are abused by the PA to develop its troublesome curriculum. Canada must follow the lead of the United States and European Parliament, both of which have already taken steps to review their funding commitments to UNRWA.
In addition to promoting discord in the Middle East, these educational materials undermine Canada's commitment to a two-state solution and contradict the UN's Sustainable Development Goals, which insist that "quality education" embrace "human rights, gender equality, promotion of a culture of peace and nonviolence, global citizenship, and appreciation of cultural diversity." The PA's curriculum makes a mockery of both.
"B'nai Brith is asking members of the public to sign our petition demanding an end to Canada's financial support of the PA's hateful curriculum," Mostyn said. "These radicalizing materials would have been removed from any Canadian classroom long ago. In choosing to fund the PA's curriculum, Canada has the obligation to ensure that Palestinian students receive an education in line with Canadian standards. Every child deserves an education that inspires a future of hope, peace and respect for humanity."