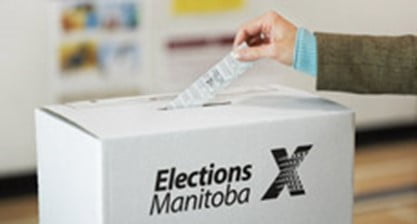 August 14, 2023
WINNIPEG – With voters set to elect Manitoba's next provincial government on Oct. 3, 2023, B'nai Brith Canada is urging candidates to make combating antisemitism a top priority.
Although B'nai Brith's 2022 Audit of Antisemitic Incidents of Canada suggested that the province experienced one of the lowest anti-Jewish hate crime rates since the Audit's inception – incidents declined 75 per cent from 2021 to 2022 – the province's 15,000 Jews remain frequent targets of prejudice because of their faith. At least 22 Jewish Manitobans reported harassment last year, with one violently attacked. Winnipeg's Jewish community was also devastated after discovering that more than 70 headstones were toppled at a cemetery belonging to a local synagogue.
To ensure Manitoba's elected officials continue to address the troubling trend of antisemitism in the province, B'nai Brith wrote to the Legislature in July to request the further implementation of the International Holocaust Remembrance Alliance (IHRA) definition of antisemitism, which the province adopted in 2022.
We are also asking Manitoba to follow Ontario's lead by introducing mandatory age-appropriate Holocaust education in primary schools.
"The excellent non-partisan cooperation when adopting the IHRA definition of antisemitism contributed to the decline in antisemitic incidents reflected in our most recent Audit," said Dr. Ruth Ashrafi, B'nai Brith's Regional Director for Manitoba and Saskatchewan. "We trust that this will continue regardless of the election's outcome."