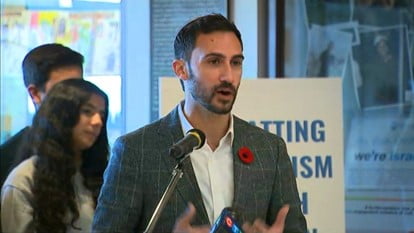 July 31, 2023
SASKATOON, Sask. – B'nai Brith Canada commends Ontario's Minister of Education, Stephen Lecce, for encouraging other provinces to mandate Holocaust education in elementary schools.
At the July 13 Council of Ministers of Education meeting in Saskatoon, Lecce implored other provinces to mirror Ontario's steps to combat antisemitism. After studies revealed that more than a third of North American teenagers graduate without a proper understanding of the Holocaust, Lecce announced in November that Ontario would heed B'nai Brith's recommendations to expand Holocaust education in primary schools. Starting in September, it will be incorporated into students' curricula beginning in Grade 6.
Although B'nai Brith has reached out to every other province and territory to do the same, only Ontario has taken this crucial step so far.
"Our community views Minister Lecce's determination as excellent news," said Michael Mostyn, B'nai Brith's Chief Executive Officer. "We certainly hope his letter will convince others to improve and modernize their curricula."
Marvin Rotrand, National Director of B'nai Brith's League for Human Rights, has been working with provincial representatives for months to mandate Holocaust education in schools and adopt the International Holocaust Remembrance Alliance (IHRA) working definition of antisemitism.
"In a recent survey of North American teenagers, 42 per cent reported they had personally witnessed an antisemitic incident in school," Rotrand said. "Research indicates that better Holocaust education reduces the targeting of Jews as well as other minorities. That's mainly why we are so strongly advocating for the provinces to follow up on Minister Lecce's recommendation."