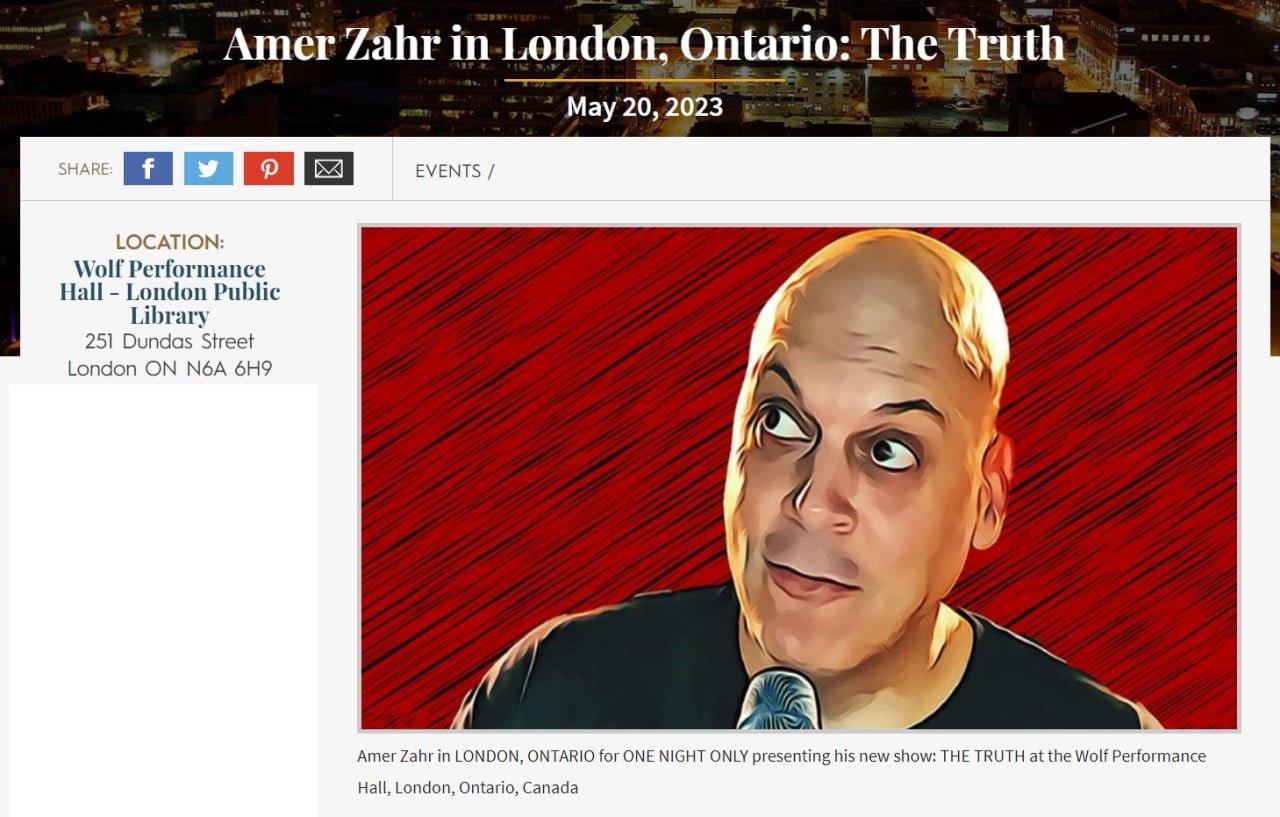 May 25, 2023
LONDON, Ont. – Canada's Jewish community is disgusted with the hypocrisy of the London Public Library's (LPL) decision to allow Amer Zahr, a notoriously antisemitic American comedian, to rent its space for a performance last weekend.
The decision to go ahead with the performance was made by the LPL's CEO Michael Ciccone after being provided with Zahr's history of publicly celebrating the terrorist Leila Khaled, praising the designated terror groups Hezbollah and Hamas, labelling the Zionist movement as "white supremacist" and counselling fellow anti-Israel activists to stop condemning antisemitism.
Despite receiving numerous letters of concern and outrage from the public, the LPL chose not to engage meaningfully with the local Jewish population and instead chose to consult with Independent Jewish Voices Canada (IJV), a controversial fringe organisation with a history of anti-Zionist activity that is not representative of the majority of Canadian Jewry.
Earlier this month, the LPL elected to cancel an event hosted by Joanna Williams, a senior lecturer at the University of Kent and author of How Woke Won: The Elitist Movement That Threatens Democracy. B'nai Brith questions the LPL's inconsistent decision to cancel Williams while permitting Amer Zahr to use its space.
"This hypocrisy is shameful," said Michael Mostyn, Chief Executive Officer of B'nai Brith Canada. "The inconsistent approach of the LPL towards controversial speakers raises some serious questions. The Jewish community and the people of the City of London deserve better."
As reported by the Western Gazette, Williams was cancelled by the LPL after, "the library cited that the policy concerns included the risk of physical danger to participants, misuse of physical property and the potential for the event to negatively impact the ability of people to enjoy the library."
B'nai Brith is calling on Ciccone to publicly justify how an event featuring a feminist critical of gender ideology poses a 'risk of physical danger to participants' but a man who openly celebrates violent terrorists and who tells his followers not to condemn antisemitism does not.