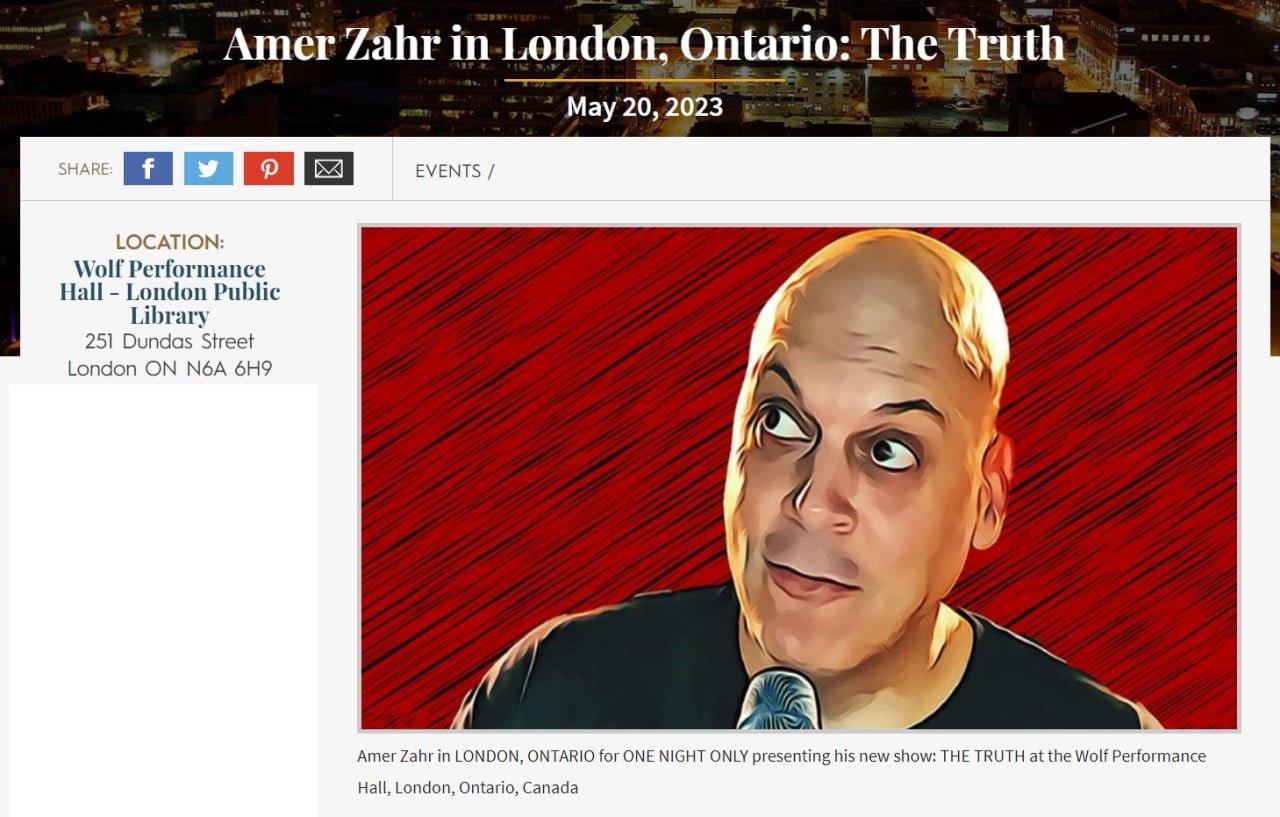 Le 25 mai 2023
LONDRES, Ont. – La communauté juive du Canada est dégoûtée par l'hypocrisie de la décision de la bibliothèque publique de Londres (BPL) de permettre à Amer Zahr, un humoriste américain notoirement antisémite, de louer son espace pour un spectacle la fin de semaine dernier.
Le directeur général de la BPL, Michael Ciccone, a pris cette décision après avoir pris connaissance des antécédents de Zahr, qui a 
célébré publiquement la terroriste Leila Khaled
, fait l'éloge des groupes terroristes désignés Hezbollah et Hamas, qualifié le mouvement sioniste de « suprémaciste blanc » et conseillé à ses collègues militants anti-israéliens de cesser de condamner l'antisémitisme.
Bien qu'elle ait reçu de nombreuses lettres d'inquiétude et d'indignation de la part du public, la BPL a choisi de ne pas s'engager de manière significative auprès de la population juive locale et a préféré consulter Voix Juives Indépendantes Canada (VJI), une organisation marginale controversée ayant un passé d'activités antisionistes qui n'est pas représentative de la majorité des juifs canadiens.
Au début du mois, la BPL a décidé 
d'annuler un événement organisé par Joanna Williams
, maître de conférences à l'université du Kent et auteur de « How Woke Won: The Elitist Movement That Threatens Democracy » (Comment Woke a gagné: le mouvement élitiste qui menace la démocratie). B'nai Brith remet en question la décision incohérente du BPL d'annuler l'événement de Williams tout en permettant à Amer Zahr d'utiliser son espace.
« Cette hypocrisie est honteuse », a déclaré Michael Mostyn, directeur général de B'nai Brith Canada. « L'approche incohérente de la BPL à l'égard des conférenciers controversés soulève de sérieuses questions. La communauté juive et les habitants de la ville de Londres méritent mieux. »
Comme le 
rapporte 
la Western Gazette, l'événement Williams a été annulé par la BPL après que « la bibliothèque a indiqué que les préoccupations politiques comprenaient le risque de danger physique pour les participants, l'utilisation abusive de la propriété physique et la possibilité que l'événement ait un impact négatif sur la capacité des gens à profiter de la bibliothèque. »