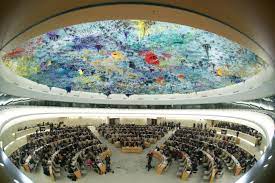 United Nations Human Rights Council (Brookings Institute)
CLIQUEZ ICI pour le français
August 3, 2022 
OTTAWA – B'nai Brith Canada today asked the United Nations Human Rights Council (UNHRC) Chair to dissolve a Commission of Inquiry that has become a mouthpiece for Hamas and a driver of antisemitism. 
The Commission of Inquiry made international headlines last week, when one of its three panelists Miloon Kothari made openly antisemitic remarks accusing Jews of owning social media and suggesting Israel should not be part of the United Nations. 
Kothari has a long history of attacking Israel, making his inclusion on the Commission panel incomprehensible. A review of Kothari's writing dating back decades show he has consistently taken public and hostile positions against Israel on the very subject matter that he is now being called upon to independently and impartially investigate. 
Federico Villegas Beltrán, Chair of the UNHRC went on the record last Friday to say that Kothari's remarks stigmatize Jews. He also wrote to Commission Chair Navi Pillay indicating that Kothari's words "could reasonably be interpreted as stigmatization of the Jewish people, which… is at the heart of any expression of antisemitism."  
B'nai Brith is disappointed with Villegas Beltrán's remarks, which simply asks that Kothari consider the possibility of "publicly clarifying his unfortunate comments and his intentions behind them." 
"That's not nearly enough," says Michael Mostyn, Chief Executive Officer of B'nai Brith Canada. "Last week, we appealed to Western nations to push for the dissolution of this hateful, unabashedly biased Commission and that is what we are insisting Villegas Beltrán do now. This Commission is hopelessly compromised." 
B'nai Brith had filed a complaint with Villegas Beltrán on March 16, as to bias of the Commission. Villegas Beltrán decided then not to intervene. Not doing so now, would infer he condones the Commission's inherent bias. 
"UN rules require Commissions to function impartially, and the persons charged to conduct inquiries must be perceived as being scrupulously fair, yet rarely has there been a more biased group," said Marvin Rotrand, National Director of B'nai Brith Canada's League for Human Rights. "The Commission's Chair declares Israel guilty of every crime possible and that's before the inquiry even begins, member Kothari's hostility spills into open antisemitism and the third panelist, Chris Sidoti has a long history of working for pro-Palestinian organizations. It's time to pack up this charade." 
The NGO Monitor – an independent research body – has connected Sidoti to the Palestinian Authority body known as the Independent Commission for Human Rights. Sidoti has consulted with the Australian Centre for International Justice, a pro-Boycott, Divest and Sanction organization that has criticized the Government of Australia for its pro-Israel stance. 
While the controversial Commission has been roundly denounced by Western Nations for its clear bias against Israel as it investigates the Hamas – Israel conflict of May 2021, it enjoys the support of much of the UNHRC, which itself, comprises many of the world's worst human rights abusers.  
Current UNHRC members include such countries as Libya, Cuba, Eritrea, Somalia, Qatar, Pakistan, and China. Russia was recently expelled from the UNHRC for its invasion of Ukraine, but its friends and allies remain as members. 
The Commission tabled a first report in June, which, unsurprisingly, failed to recognize that Jews have the right to self-determination in their ancestral homeland of Israel, where the Jewish people are indigenous.  
The opened-ended mandate of the Commission – which does not require annual renewal by the UN General Assembly – has been roundly criticized by Canada, the United States, the United Kingdom and most Western nations.