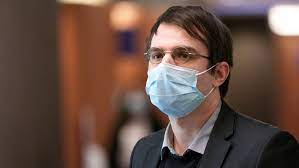 July 11, 2022
MONTREAL – B'nai Brith Canada is calling on Federal Justice Minister David Lametti and his provincial counterparts to ensure Canadian judges are thoroughly knowledgeable of important Holocaust details.
B'nai Brith's call follows a trial in Montreal last Friday of Gabriel Sohier Chaput for willful promotion of hate.
Crown prosecutor Patrick Lafrenière argued in his closing statements that the court could take for granted that, when Chaput referred to "non-stop Nazism" in his writings, he was referring to persecution and violence against Jews. The prosecutor referenced the Holocaust, when Hitler-led Nazis murdered 6-million Jews during the Second World War.
Judge Manlio Del Negro, however, said that the prosecution failed to establish that the murder of Jews by the Hitler regime was a consequence of Nazi ideology.
"Every Canadian should be appalled," said Sam Goldstein, B'nai Brith's Director of Legal Services. "We don't expect Holocaust denial and distortion from our courts. The prosecutor does not need to establish that the Holocaust happened. No expert witness is needed. The Jewish community is outraged."
Canada is a member of the International Holocaust Remembrance Alliance (IHRA) and has adopted the organization's definition of antisemitism which recognizes that denial and distortion of the Holocaust are forms of hate that target Jews. B'nai Brith maintains the IHRA definition should form an inherent part of judges' training.
B'nai Brith notes that Canada has worked to ensure that those named to the bench are more sensitive to domestic violence and hatred aimed at different groups. The Chaput case points to a need for judges to understand antisemitism and the context of the Holocaust.
"Clearly the remarks of Judge Del Negro are unacceptable," said Michael Mostyn, Chief Executive Officer of B'nai Brith Canada. "The murders of 6-million Jews is a historical fact. It does not have to be proven again and again in a courtroom. The accused, Chaput, allegedly invoked the Holocaust in while writing on a hateful pro-Nazi website, amounting to a clear-cut incitement to hate and violence."