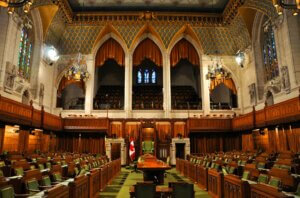 CLIQUEZ ICI pour le français
July 22, 2022
OTTAWA – B'nai Brith Canada is delighted that strategies to fight online hate as well as malicious smears against the State of Israel have been included in a House of Commons Committee report on combating violent extremism.
These are among 33 recommendations made in the Committee's new report – titled "The Rise of Ideologically Motivated Violent Extremism in Canada" – that range from reviewing terrorist financing laws to better online content moderation.
"We are gratified to see the Committee's report contains concrete steps the Government can take to address the growing danger of violent extremism," said B'nai Brith Canada's CEO, Michael Mostyn. "Of these, the recommendation to reject the demonization and delegitimization of Israel, and to condemn any such remarks by Canadian organizations is particularly noteworthy and deserves to be adopted."
Mostyn and B'nai Brith Canada's senior legal counsel David Matas were invited a year ago to testify before the House of Commons Standing Committee on Public Safety and National Security. This was followed by a second invitation to testify before the Committee this past May, when B'nai Brith urged the Government to hold social-media platforms accountable for the content they host and to update its anti-racism strategy to better define hate. B'nai Brith also submitted an expert brief for the committee's consideration.
Incidents of online hate grew dramatically during the Covid pandemic as people were largely confined indoors, resulting in major profits for those who create and host hateful content. To address this, the Committee's report recommends a "study of a regulatory structure to hold online platforms accountable for enforcing their terms of service" and "investments to ensure better identification and removal of automated bots used to amplify extremist content accessible to Canadians online."
"The Committee's report contains lots of strong, clear, truly excellent recommendations, including ways to better moderate and combat online hate," said Marvin Rotrand, B'nai Brith's National Director of its League for Human Rights. "If enacted by the Government, these recommendations will greatly benefit all victimized groups."
Record levels of antisemitism were recorded in Canada last year, as outlined in B'nai Brith's 2021 Annual Audit of Antisemitic Incidents. B'nai Brith's report on how algorithms propagate toxic content and fail to remove hateful ideology effectively highlights the dangers of social media platforms.