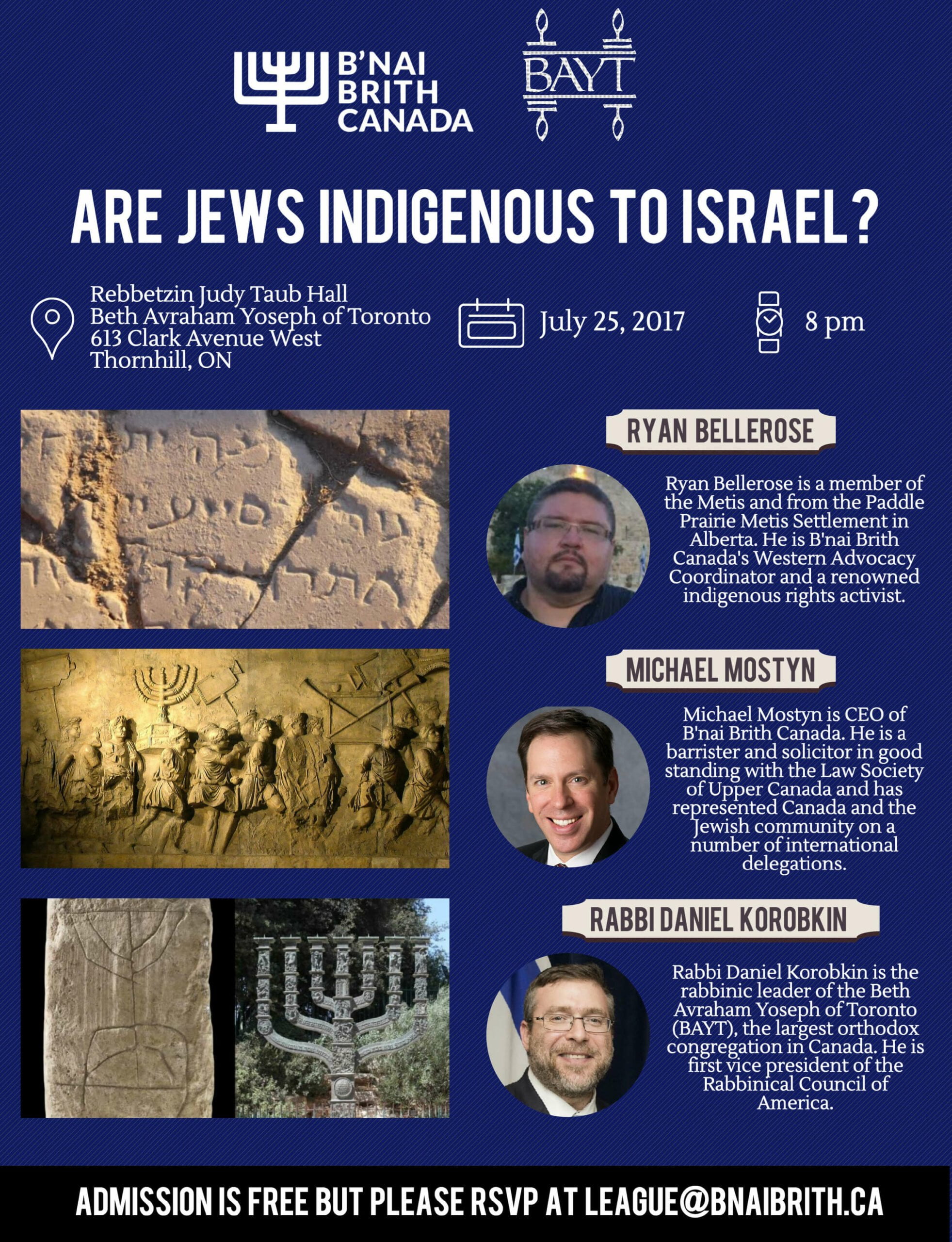 B'nai Brith Canada and the Beth Avraham Yoseph of Toronto (BAYT) are proud to present "Are Jews Indigenous to Israel," featuring prominent speakers discussing the connection the Jewish people have to Israel – as indigenous people to the land.
The following three speakers will bring their unique perspectives and expertise on the matters.
Ryan Bellerose
Ryan Bellerose is a member of the Metis and from the Paddle Prairie Metis Settlement in Alberta. He is B'nai Brith Canada's Western Advocacy Coordinator and a renowned indigenous rights activist.
Read some of Ryan's published material on the subject here: Are Jews Indigenous to the Land of Israel? Yes.
Watch a conversation between Ryan and Psagot Winery CEO and founder Yaakov Berg talk about the indigenous connection between Jews and the land of Israel.
Michael Mostyn
Michael Mostyn is CEO of B'nai Brith Canada. He is a barrister and solicitor in good standing with the Law Society of Upper Canada and has represented Canada and the Jewish community on a number of international delegations.
Read more about Michael here.
Rabbi Daniel Korobkin
Rabbi Daniel Korobkin is the rabbinic leader of the Beth Avraham Yoseph of Toronto (BAYT), the largest orthodox congregation in Canada. He is first vice president of the Rabbinical Council of America.
Read more about Rabbi Korobkin here.
Admission is free but please RSVP below.