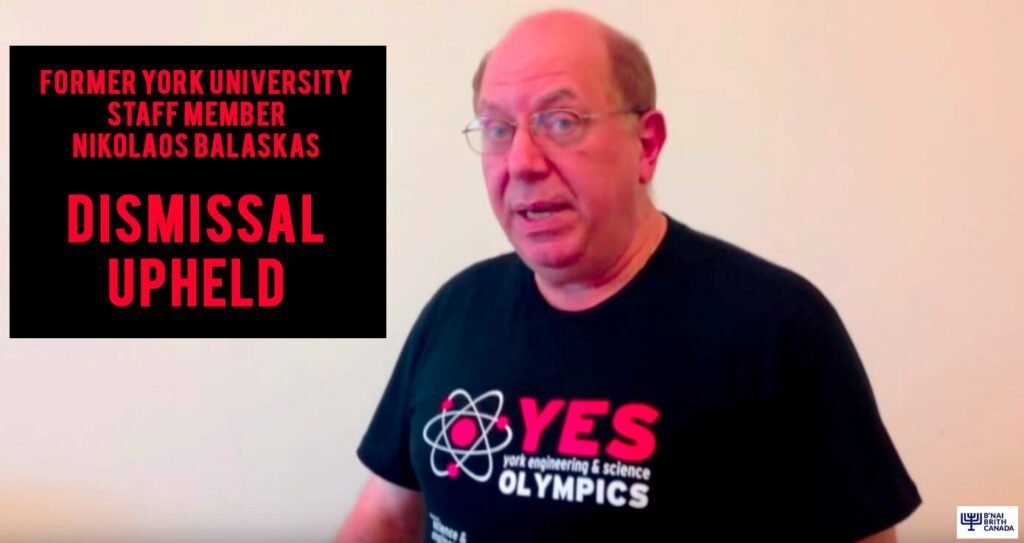 May 14, 2018
By Aidan Fishman
Director of the League for Human Rights
B'nai Brith Canada
TORONTO – A labour arbitrator has upheld  (page doesn`t exist anymore )York University's decision to dismiss a staff member in September of 2016 after he shared dozens of virulently antisemitic posts on social media.
Nikolaos Balaskas, a long-time technician in the university's Department of Astronomy and Physics, was the subject of a complaint filed by B'nai Brith Canada on Aug. 22, 2016, based on information provided by a Jewish student at York.
Publicly accessible Facebook posts made by Balaskas described a Nazi war criminal as a "hero," referred to the story of Anne Frank as a "hoax," and claimed that, "Many of the [Nazi] concentration camps were run by Jews."
Dismissing a grievance brought by Balaskas' union, the York University Staff Association (YUSA), arbitrator Eli Gedalof found that the posts reflected "the perpetuation of hateful stereotypes and a persistent vilification of Jewish people" and promoted "blatantly antisemitic views." He concluded that "the University has engaged in appropriate progressive discipline, to which the grievor has not responded."
B'nai Brith assisted York's legal counsel with preparing its argument in advance of the arbitration hearing.
"York University deserves credit for sticking with this dismissal," said Michael Mostyn, Chief Executive Officer of B'nai Brith Canada. "It is troubling that YUSA, which claims on its website that employees from all religious and national backgrounds deserve 'greater respect, security and fairness on the job,' made a serious attempt to allow Balaskas to escape discipline for his antisemitic conduct.
"York's dogged persistence on this file should serve as a model for other Canadian universities dealing with antisemitic conduct by employees, such as the University of Lethbridge in its dealings with Anthony Hall."
Anthony Hall, a professor of Liberal Studies in Lethbridge, was suspended in October of 2016 after B'nai Brith exposed his appearance in Holocaust denial videos alongside German-Canadian neo-Nazis. Hall also promoted antisemitic conspiracy theories in the classroom. He was formally reinstated  as faculty member in November of 2017 but has not been restored to a classroom teaching role.