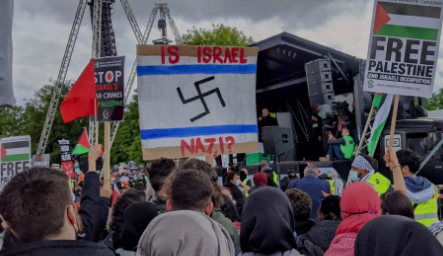 May 27, 2021
OTTAWA – As organizations around the globe mark today as a Day of Action Against Antisemitism, Canada's mayors are about to hold their annual meeting.
Once again we ask: Where is the response to confronting increasing antisemitic attacks in Canada? The response to our repeated calls for action has been deafening in its silence.
The Federation of Canadian Municipalities meets May 31 – June 4 to consider the priority issues and challenges facing Canada's cities. Yet, nowhere is there a sign that antisemitism is seen as a pervasive and corrosive threat to Canada's social fabric, requiring action.
Mayors will consider a resolution against dealing with Canada's hate speech laws. Yet, nowhere in that text is the word 'antisemitism' mentioned. A workshop will address 'anti-racism and building inclusive communities'. Yet nowhere does the sense of concern among Canada's Jewish community figure in the framework for discussion.
As recently as March 11, 2021, we issued a challenge to our mayors to take action on antisemitism. There has been no response. The inadequacy in this is more pronounced given the spate of antisemitic attacks of the past two weeks. So, we ask again that our mayors commit to the following measures, both short- and long-term
For Now:
Publicly condemning – individually and collectively – antisemitism in all its forms, including stereotypes or conspiracy theories about Jews, Holocaust denial or distortion, and denying the Jewish people's right to self-determination.
Rejecting the notion that opinions about the policies, actions, or existence of the State of Israel can ever justify or excuse blatantly antisemitic acts.
Joining the #NotInMyCity Campaign, calling municipal leaders to sign the Global Statement Against Antisemitism.
Ensuring that protests which target Jewish Canadians through violence, intimidation and hate speech are investigated and, where justified, prosecuted to the full extent of the law.
Condemning the actions of Hamas, a listed terrorist entity under Canadian law, and stressing that expressions of support for it, including symbols glorifying Hamas and its proxies, will not be tolerated in Canada.
Addressing antisemitic hate speech specifically in any resolution under consideration focused on strengthening Canada's hate speech laws.
Instructing municipal anti-racism bodies to specifically address antisemitism as an urgent action item in their policies and programs.
For the Longer Term:
Working to adopt and implement the International Holocaust Remembrance Alliance (IHRA) Definition of Antisemitism, an integral part of Canada's federal anti-racism strategy.
Creating dedicated hate crime units in our cities, or comprehensive hate crime strategies, which include training on how to identify hate crimes and hate incidents of an antisemitic nature.
Combating the antisemitic Boycott, Divestment and Sanctions (BDS) movement, pursuant to motions, for example, in both Canada's House of Commons and the Ontario Legislative Assembly.
Creating a legal framework at the municipal level to prevent BDS activities from taking place on municipal property and ensuring that such activities do not receive public funding.
Directing municipal procurement agencies to not engage with any businesses that endorse or operate based on discriminatory BDS practices.
Supporting joint federal, provincial/territorial, and municipal government action directed at eradicating antisemitism.
Expanding education programs, including Holocaust awareness programs, to counter intolerance and discrimination.
Ensuring that municipal staff undergo appropriate training to identify and act against antisemitism in the workplace and in all city activities.
Affirming that a climate of mutual understanding and respect among all citizens is the bedrock of pluralistic communities, and that combating antisemitism is a legitimate part of this philosophy.
Joining the 'Mayors United Against Antisemitism' coalition – a project of the U.S. Conference of Mayors and the American Jewish Committee. If hundreds of U.S. and European mayors can unite to confront antisemitism, why can't Canada's mayors do so?
Mayors and municipal leaders have the duty to use all the tools at their disposal to ensure the security of Jewish residents and to help end antisemitism. Antisemitic criminals should be prosecuted under the law. Jewish sites, including schools, synagogues, and cemeteries, must be protected. Jewish people should never be afraid to walk the streets of their hometowns.
The silence of our municipal leaders – particularly so given what we have witnessed recently – should not be tolerated.