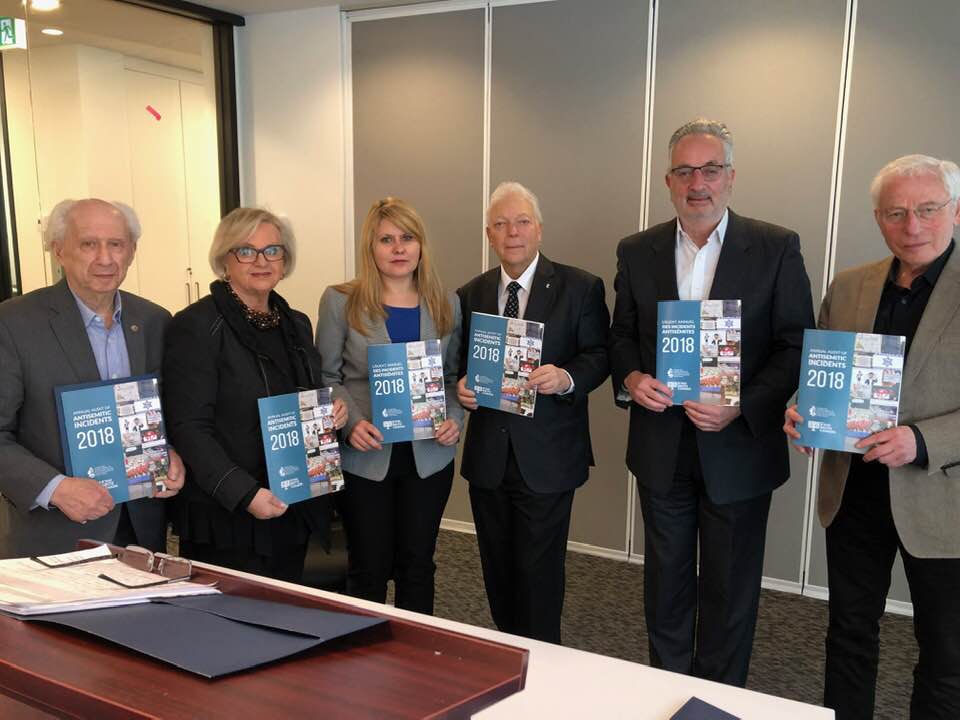 May 3, 2019
QUEBEC CONFIDENTIAL | By Mike Cohen
MONTREAL – B'nai Brith Canada released its 2018 Annual Audit of Antisemitic Incidents  this week.
Representatives Harvey Levine (Director, Quebec Region), Ted Greenfield (Past President), Alan Adel (Co-Chair, Advocacy and Policy Committee) and Jerry Tarasofsky (Board Member) have all been asked to comment on previous Audits over the last few decades. But as they sat at a press conference in downtown Montreal Monday, accompanied by board member Ronnie Roter and research coordinator Janna Minikovich, they were understandably alarmed by the fact that Quebec accounted for the highest number of incidents with 709.
It is the first time the province significantly surpassed Ontario, with 481 incidents, since B'nai Brith introduced the Audit in 1982.
#BREAKING: According to our Annual Audit of Antisemitic Incidents, 2018 was the third consecutive record-setting year for #antisemitism in Canada, the first time we've recorded over 2,000 incidents since we launched the Audit in1982. #BBAudit #cdnpolihttps://t.co/1lTvPPO1nl

— B'nai Brith Canada (@bnaibrithcanada) April 29, 2019
There is great tension in Quebec these days among members of cultural minority groups, chiefly because of the CAQ provincial government's proposed religious symbols Bill 21, which would ban public servants from wearing religious symbols at work.
This would include schoolteachers and principals, cops, judges, prison guards, Crown lawyers, bankruptcy registrars, the Speaker of the National Assembly, members of bodies like the labour tribunal, public inquiry commissioners, the provincial justice minister, and more.
"From the time the CAQ made the secular issue one of the key issues on its platform, we began to see an increase in antisemitism in Quebec," Levine said. "All of the xenophobes came from under a rock. A lot of this is online hate."'
A number of key antisemitic incidents from Quebec are highlighted in the Audit, including:
A group of teens shooting lit fireworks at Hasidic Jews in Boisbriand, Que.
During a typical commute through a Quebec metro station, a man notices "Kill All Jews" and "Jews are Cancer" scribbled on the seat.
A Montreal Jewish man is the target of antisemitic comments by a co-worker who showed him his new lighter and threatened to "Burn all the Jews."
Montreal man Robert Gosselin is charged with threatening to murder Jewish girls at a Jewish day school.
B'nai Brith's Eight-Point Plan to Tackle Antisemitism calls for dedicated hate crime units to be formed in every major city in Canada. In Montreal, B'nai Brith was instrumental in having that occur under former mayor Denis Coderre. "It has worked very well here," said Levine. "It is a good example for the rest of the country."
Meanwhile, the boycott, divestment and sanctions (BDS) movement, active on the two English-language university campuses, McGill and Concordia, continues to have pernicious effects on Jewish students. "McGill has become a hotbed," said Levine. "Many Jewish students tell us they do not feel welcomed there."
Added Adel: "We use the definition of antisemitism that is recognized by the International Holocaust Remembrance Alliance (IHRA). It is our view that BDS falls under that definition. It promotes the delegitimization of Israel and equates Zionism with racism."
B'nai Brith déplore une hausse des gestes antisémites en ligne https://t.co/Z5oAkfORth

— HuffPost Québec (@HuffPostQuebec) April 29, 2019
Levine said the problem on campus is that universities are giving student associations blank cheques to do what they wish on these issues. "They are given a long leash," he said. "We would like universities to be more proactive."
Greenfield, who was born in 1933 at the time of Nazism, said the situation vis-à-vis antisemitism is far more complex these days.
Meanwhile, Tarasofsky said he is most alarmed by the emergence of the Internet and the power it has provided groups to spew hate. "It is an easy way for these people to hide themselves," he said.
Mike Cohen is B'nai Brith Canada's Quebec news bureau chief, a veteran writer and municipal politician. He can be reached at [email protected]. Follow him on Twitter at @mikecohencsl.