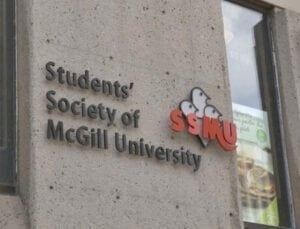 Oct. 25, 2017
By Aidan Fishman
Interim National Director of the League for Human Rights
B'nai Brith Canada
MONTREAL – On Monday, at a general meeting of the Students' Society of McGill University (SSMU), a group calling themselves "Democratize SSMU" targeted three SSMU directors over their support for Jewish causes.
The group – which, according to students at the meeting, included Igor "Punch A Zionist" Sadikov ­– had previously publicly indicated (page doen`t exist anymore) that it would attack any directors associated with pro-Israel activism at McGill.
The three student leaders include Noah Lew, the SSMU's sole Jewish director, and two other directors who are involved in combatting anti-Israel and antisemitic rhetoric on campus. They were the only directors of the SSMU to be denied ratification.
Jewish students, feeling targeted, then left the meeting en masse. In a Facebook post that has since gone viral, Lew elaborated on the incident: "I was blocked from being able to participate in my student government because I am Jewish, because I have been affiliated with Jewish organizations, and because I believe in the right to Jewish self-determination."
"This SSMU meeting was conducted in an atmosphere of blatant antisemitism," added David Naftulin, a Jewish student who attended the meeting and spoke to B'nai Brith. "Students were targeted solely because of their Jewish identity or their allyship with Jews on campus."
"Now that the anti-Israel boycott, divestment and sanctions (BDS) movement has been decisively defeated at McGill, we see its acolytes stooping to more basic forms of antisemitism," said Michael Mostyn, Chief Executive Officer of B'nai Brith Canada. "The McGill administration needs to continue to speak out, and to ensure that there is no place for targeting Jews in student politics."
If you agree that the McGill Administration should take concrete action against antisemitism at McGill, PLEASE SIGN OUR PETITION to Principal and Vice-Chancellor Suzanne Fortier.