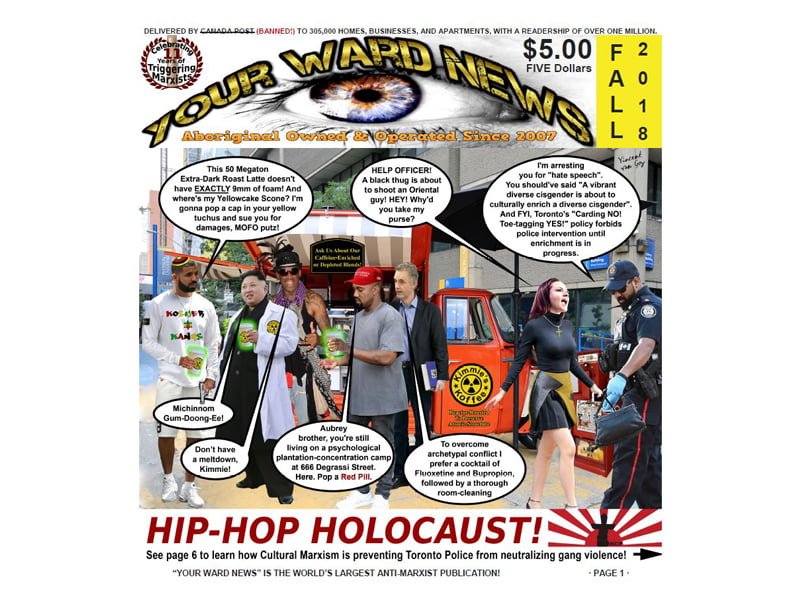 March 1, 2019
By Daniel Koren
Manager, Media Relations & Communications
B'nai Brith Canada
TORONTO – Immediately after being found guilty of wilfully promoting hatred against women and Jews, an indignant James Sears told a media scrum outside a Toronto courtroom, "We're going to keep publishing. The Crown is asking us to take down the issues in question. Obviously, the new issues of Your Ward News are not affected by this decision."
It appears he has kept true to his word.
This week, B'nai Brith Canada learned that new copies of the Winter 2019 edition of Your Ward News, a newspaper that has for years promoted antisemitic, misogynistic, and homophobic slogans, were distributed in the Upper Beaches area of downtown Toronto.
We have notified the Toronto Police Service, which is launching a full investigation.
Sears and Leroy St. Germaine, who serve as the paper's editor and publisher, respectively, were found guilty last month after a lengthy campaign from activists Warren and Lisa Kinsella, as well as organizations such as B'nai Brith, who called for them to be charged under Canada's hate speech laws.
After their trial, Sears likened himself to Jesus Christ, saying it was a "very dark day for Christianity," that he felt he was "being crucified," and that the decision was "politically motivated."
James Sears & Leroy St. Germaine of #YourWardNews have been found guilty of promoting hatred after a years-long campaign from B'nai Brith and activists @kinsellawarren and @lisakinsella. Here's a glimpse of the hateful rhetoric they've promoted.

For more: https://t.co/aJo1fqj5tH pic.twitter.com/5iugfZUsjV

— B'nai Brith Canada (@bnaibrithcanada) January 24, 2019
In a message from Sears in the latest issue of the paper, he claims that he will continue printing the paper, which is banned by Canada Post, by using "private companies" and a "volunteer army." He also states he is looking to establish a "clubhouse" for his "Hitler Fan Club" in Toronto. The edition is replete with swastika symbols and images that attack members of the Jewish community.
On the Your Ward News website, Sears continues to trivialize the Holocaust and support Canadians such as Alfred Schaefer, who was convicted of promoting Holocaust denial in a German courtroom after B'nai Brith alerted German authorities to his activities.
Sentencing for both Sears and Germaine will take place April 26, 2019.
If you a copy of Your Ward News is distributed to your doorstep, please call the B'nai Brith Anti-Hate Hotline at 1-800-892-BNAI.