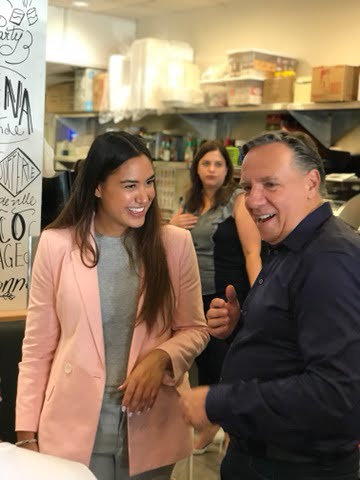 Aug. 22, 2018
QUEBEC CONFIDENTIAL | By Mike Cohen
B'nai Brith Canada
The following is the first of four profiles on Jewish candidates running in the Quebec provincial election. For the second, click here.
MONTREAL – While the provincial election campaign in Quebec will not officially kick off until Thursday, it is just as if the writ has already dropped. Polls show that the Coalition Avenir Québec (CAQ) and its leader François Legault are the early favourites to defeat the governing Liberals, with the Parti Québecois potentially wiped from the map.
In the West Island Robert Baldwin riding, 27-year-old Laura Azéroual, a Sephardic Jew, has decided to challenge Quebec Finance Minister Carlos Leitão in the Oct. 1 election.
Azéroual was raised in Dollard des Ormeaux, where she still lives with her family. Given that the CAQ has been labelled anti-immigrant by some, she will likely be a welcome spokesperson for the party. Azéroual's entire family came from Morocco to Montreal over 40 years ago, where they remain active members of the local Sephardic community. She maintains that Legault is not only committed to keeping Quebec in Canada, but that he is hardly anti-immigrant.
During a stop on the West Island to endorse Azéroual, Legault stated: "This will be first election in the last 50 years where the ballot question won't be about the sovereignty of Quebec. It will be about who has the best proposals on the economy, education and healthcare. It's about time we put all Quebecers together — anglophones, francophones — and work to be richer. And stop talking about the constitutional issues."
Azéroual, who is perfectly bilingual and counts French as her mother tongue, has a Political Science Degree from the Université de Montréal and has a background in law. She has been a supporter of the CAQ for several years now and it was during an internship for that very party when she was approached to be a candidate.
"This is going to be a great experience for me," she said. "I am already in campaign mode and actually working on our leader's tour as well. Mr. Legault also grew up in the West Island so that should be noted. He certainly deserves the support of all Quebecers and that includes the English-speaking community."
Azéroual's family are members of the large Dollard des Ormeaux Sephardic Synagogue called Or Shalom. Her parents said they very much support her decision to run for the CAQ. "I certainly hope the Jewish community supports me," she says. "But there are 55,000 voters so I have a lot of ground to cover."
Azéroual said that the English-speaking community should focus on what she calls the Achilles heel of the Liberals: their record on health care. "Many of the voters I have spoken to say very clearly that they do not trust Health Minister Gaetan Barrette," she said. "Well if the Liberals are re-elected, he will be back in that job.
"When I hear anglophones say they won't vote CAQ because a leopard never changes its spots, François Legault may bring back independence, and so on, I worry. Does that mean the anglophone community will lock itself out because it fears a hypothetical referendum?"
As a result of having family in Israel, Azéroual says she spends a lot of time in the Jewish State. "And I know for a fact that when he becomes Premier, François Legault will want to visit Israel," she said. "As a former education minister, he recognizes that Israel is a startup nation."
Mike Cohen is B'nai Brith Canada's Quebec news bureau chief, a veteran writer and municipal politician. He can be reached at [email protected]. Follow him on Twitter at @mikecohencsl.