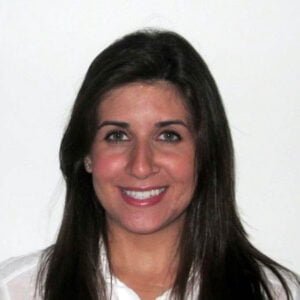 I am the grandchild of four Holocaust survivors. In February, I accompanied my maternal grandparents, Marika and Bill Glied, to Detmold, Germany to witness my grandfather's testimony against a former SS Nazi guard, Reinhold Hanning. I travelled back in June to witness the court give its judgment.
On June 17, 2016, for likely the last time, a German court convicted one of its own citizens for crimes committed while aiding the Nazi regime's goal to exterminate millions of Jews, Roma, homosexuals, people with disabilities, and anyone else who didn't fit into Hitler's vision of a "perfect" Aryan race. For the first time, the court condemned every person who worked in Auschwitz and officially called it a "killing factory." These statements only took 72 years to make.
My interest in attending this trial was twofold. I am a Jew and a grandchild of survivors, but I am also a criminal defence lawyer in Ontario and wanted to observe a trial – especially one of such magnitude – in another country.
When I chose to pursue a career in criminal law, the most important lesson I learned was not about our legal system, but of the importance of being open-minded and respectful that there are always two sides to every story. This was a difficult concept for me to grasp in Germany. During a court break on the first day of trial, Mr. Hanning was pushed right past me in his wheelchair. My automatic, physiological response was one of blood boiling and bile rising in the pit of my stomach. Here was an actual Nazi, someone committed to Hitler and his insane ideology, someone who was at the death camp where my family was murdered and tortured. I didn't care about Mr. Hanning's side of the story. What excuse could he possibly have for being implicit in the murder of innocent people?
As it turned out, the judges agreed.
The trial took place in a small, charming town called Detmold, located about three hours outside of Frankfurt. German courtrooms are quite different than those in Canada. Counsel face each other rather than address the judge directly. The witnesses face the judge, instead of the counsel tables. The court is comprised of three judges, led by a Presiding Judge and two Lay-Judges, whose roles are purely advisory to assist the Presiding Judge in reaching his/her decision. Here, victims are referred to as plaintiffs or co-plaintiffs, a civil term in Canada.
On both journeys to Detmold, my family and I met with Thomas Walther, the man who started it all – a retired German judge who has made it his life's mission to track down Nazis and bring them to justice. His work has developed German legal precedent: for example, the 2011 case of John Demjanjuk was an essential change for prosecuting Nazis. Thanks to that ruling, a former Nazi no longer has to have been directly involved in the killing of a concentration camp inmate to be guilty of murder. The precedent also allows witness testimony to be used to corroborate the horrific events that occurred daily in the concentration camps, not to directly identify the defendant.
Special accommodation was made for Mr. Hanning due to his old age. The trial was to be held for 2-3 days a week, for 2 hours at a time. We attended for days 3 and 4. For the first two days, Mr. Hanning walked inside the courtroom. On the third day, he decided he needed a wheelchair, but failed to make prior arrangements with the court. This caused a half hour delay.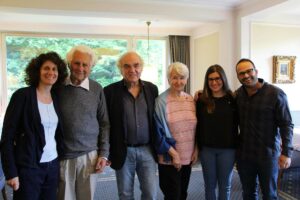 Max Eisen from Toronto was the first co-plaintiff to read his pre-prepared 3,000-word testimony. He began in English with simultaneous audio translating his words into German. A few minutes into his testimony, defence counsel claimed that the interpretation wasn't good enough, so Mr. Eisen's 20-minute statement ended up taking an hour to read. The delay resulted in survivor Irene Weiss having to return the next day for five minutes of questions because defence counsel refused to sit past noon. It turned out the defence counsel did not even have any questions for Mrs. Weiss. The fifth witness had to return the following week because they ran out of time to hear her testimony. Thankfully, I am told that after a few days, German press published a number of angry articles that convinced the defence counsel to allow the court to sit longer when needed.
Mr. Hanning's courtroom behaviour was incredibly appalling. From the moment he entered the court until the moment he left, he stared at his hands while they were placed on his lap. Not once did he look up. I could swear that during my grandfather's testimony, I saw him glance up for a split second. He was so cowardly and despicable, the judges referred to it in their judgment when deciding whether he was genuinely remorseful during his statement.
After nearly five months, on June 17, 2016, the entire court stood to hear the verdict. The presiding judge, Justice Anke Grudda, read out that Reinhold Hanning was guilty of aiding and abetting the murder of at least 170,000 people during his time as an SS guard at Auschwitz. He was sentenced to five years in prison and ordered to pay all costs of the trial.
The judgment was excellent. I urge everyone to read it. My grandfather said: "the judges said everything he would have wanted to say."
For me, it was not just the words that were so poignant and powerful, but the passion and emphasis as she read the judgment in court. All five judges stared directly at Hanning when they told him they did not believe he could have spent two-and-a-half years in Auschwitz and not know what was going on. They said it was impossible for him not to have known the purpose of the camp when he was clearly a valued soldier having been promoted twice. He could have asked to be transferred if he truly felt he was doing wrong.
After the trial, I met the judges. We all had tears in our eyes. Justice Anke Grudda thanked us for coming and said she loved being able to see the survivors with their families. She also said that she hoped we could feel better about Germans.
I can tell her this: I met many Germans while attending this trial. I befriended high school students who attended the trial every day that they could. I met a man who drove for two hours just to attend. I met a woman who wore an Israeli flag and had urged her church to attend wearing blue and white in solidarity. Germany is the only country that has openly admitted and apologized for their actions during the Holocaust. Thomas Walther said, "This verdict is one small example of the world changing." And at a time when antisemitism is on the rise yet again, I think it even more fitting that German gentiles are still committed to seeking justice where it is owed.
I am extraordinarily proud of my grandfather for testifying, as it is a very difficult thing to do. I am proud of my grandmother for accompanying him. I am proud of all of the Survivors for finding the strength to keep their nightmares alive so that they can educate the world about what happened. Now deniers don't have to believe us Jews: they can read a German judgment.
It was an amazing event. Seventy-two years and three generations after my grandparents survived the Holocaust, I heard one of them testify in a German court against a Nazi. On June 17, 2016, three generations of Glied survivors witnessed history, accompanied by my fiancé, another grandchild of four Holocaust survivors. We sat with three more survivors, including Hedy Bohm, a Survivor from Toronto and their children and grandchildren.
Together we sat, survivors of yet another attempt at destroying the Jewish people. Together we sat, proof that the Jewish people cannot be destroyed. Together we sat, proof that Hitler lost.
Thank you to Thomas Walther and all the prosecutors. Thank you to all of the judges who listened. We have been waiting more than 70 years for this. You finally did what was right. Thank you for finally bringing a little peace, a little closure to my grandfather. As he so rightly said at the final press conference: "One chapter in this terrible story is closed, [but] the book is still open."
Samantha Glied-Beliak is a criminal defence attorney for Rotenberg Shidlowski Jesin, which is based in Toronto.