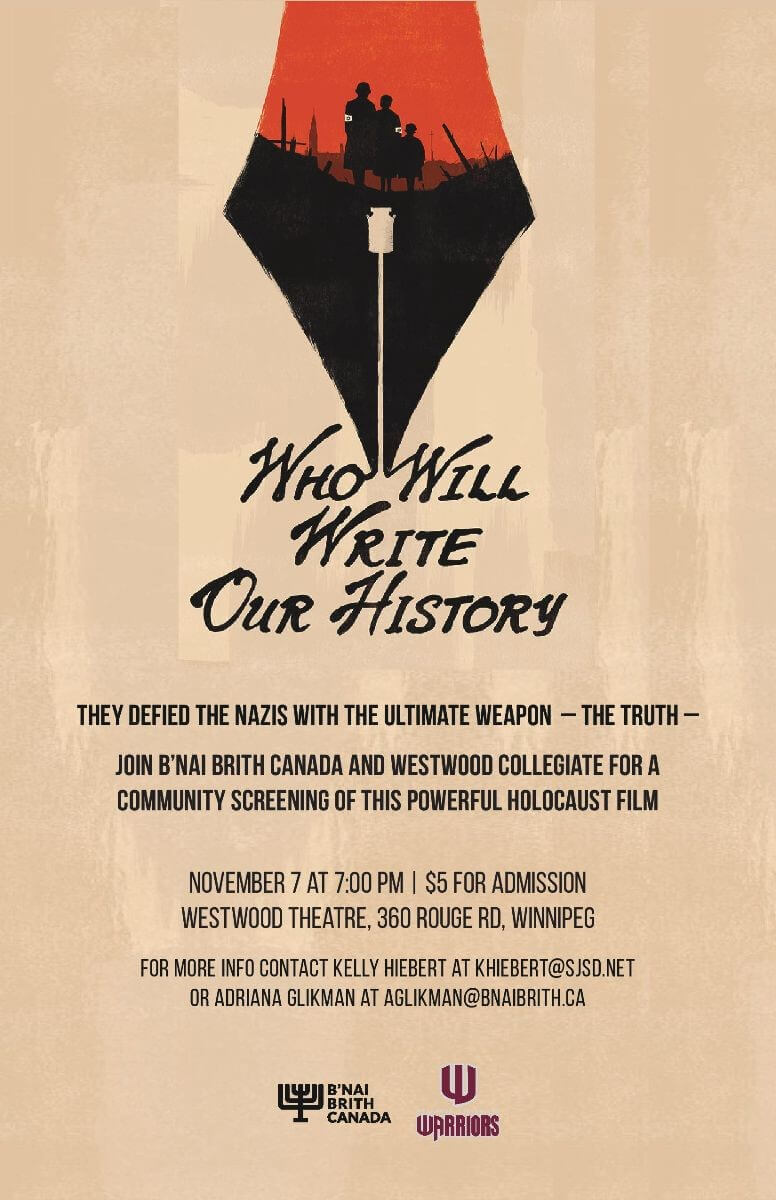 October 24, 2019
B'nai Brith Canada
WINNIPEG – B'nai Brith Canada is very pleased to partner with Westwood Collegiate for this Community educational program about the Holocaust.
Please join us for a screening of the film Who Will Write Our History at 7:00 p.m. on November 7th, 2019 at Westwood Collegiate Theatre, 360 Rouge Road. Everyone is welcome.
In November 1940, days after the Nazis sealed 450,000 Jews in the Warsaw Ghetto, a secret band of journalists, scholars and community leaders decided to fight back. Led by historian Emanuel Ringelblum and known by the code name Oyneg Shabes, this clandestine group vowed to defeat Nazi lies and propaganda not with guns or fists but with pen and paper. Now, for the first time, their story is told as a feature documentary. Written, produced and directed by Roberta Grossman and executive produced by Nancy Spielberg, Who Will Write Our History mixes the writings of the Oyneg Shabes archive with new interviews, rarely seen footage and stunning dramatizations to transport us inside the Ghetto and the lives of these courageous resistance fighters. They defied their murderous enemy with the ultimate weapon – the truth – and risked everything so that their archive would survive the war, even if they did not.
For more information, please contact  Kelly Hiebert at khiebert@sjsd.net or Adriana Glikman, National Program Coordinator, B'nai Brith Canada at 204-487-9623 or aglikman@bnaibrith.ca
Limited seating is available.