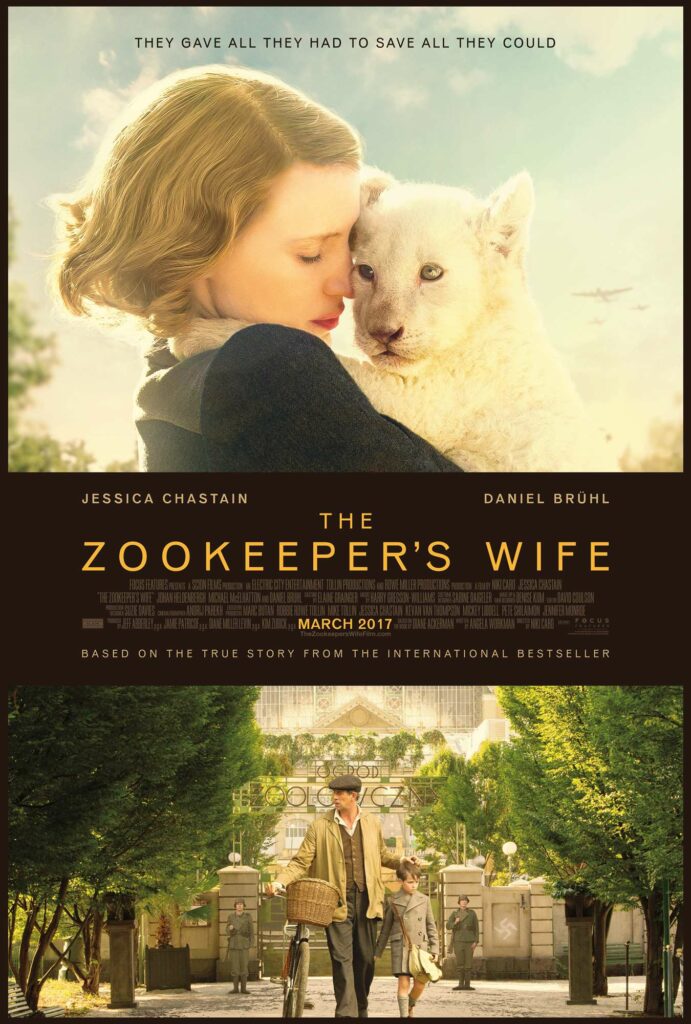 April 25, 2017
By Jaimie Goldstein
B'nai Brith Canada
B'nai Brith Canada is excited to offer you the chance to win a package featuring two tickets to see The Zookeeper's Wife, based on Diane Ackerman's nonfiction book by the same name, at any Cineplex Theatre in Canada. The package also includes a copy of Ackerman's novel signed by Academy Award-nominated actress Jessica Chastain, who stars in the film adaptation.
To win, simply like B'nai Brith Canada on Facebook, share this post to social media, and send an email to [email protected]  with the subject line "Zookeeper."
Directed by Niki Caro and also starring Johan Heldenbergh and Daniel Brühl, The Zookeeper's Wife tells the true story of Jan and Antonina Żabiński, who owned the flourishing Warsaw Zoo in the years leading up to World War II. Following the Nazis' invasion of Warsaw, the Żabińskis fought to save their zoo, and eventually used the venue to secretly shelter Jewish fugitives who escaped the Warsaw Ghetto.
Despite the threats posed to their lives by harbouring Jewish fugitives, the Żabińskis transformed their zoo into a sanctuary of sorts, and became heroes to the more than 300 Jews they saved from Nazi persecution.
On Sept. 21, 1965, Yad Vashem officially recognized Jan and Antonina Żabiński as Righteous Among the Nations.
With Yom HaShoah (Holocaust Remembrance Day) behind us, The Zookeeper's Wife highlights the need to promote Holocaust awareness and education, and the importance of honouring the victims, as well as the survivors, of this dark period in human history.
Given that rates of Holocaust denial and antisemitism have been on the rise in Canada, the film serves as a reminder of the harsh and dehumanizing conditions that Jews were subjected to during the Holocaust, and the lengths that a brave few went to in order to save them.