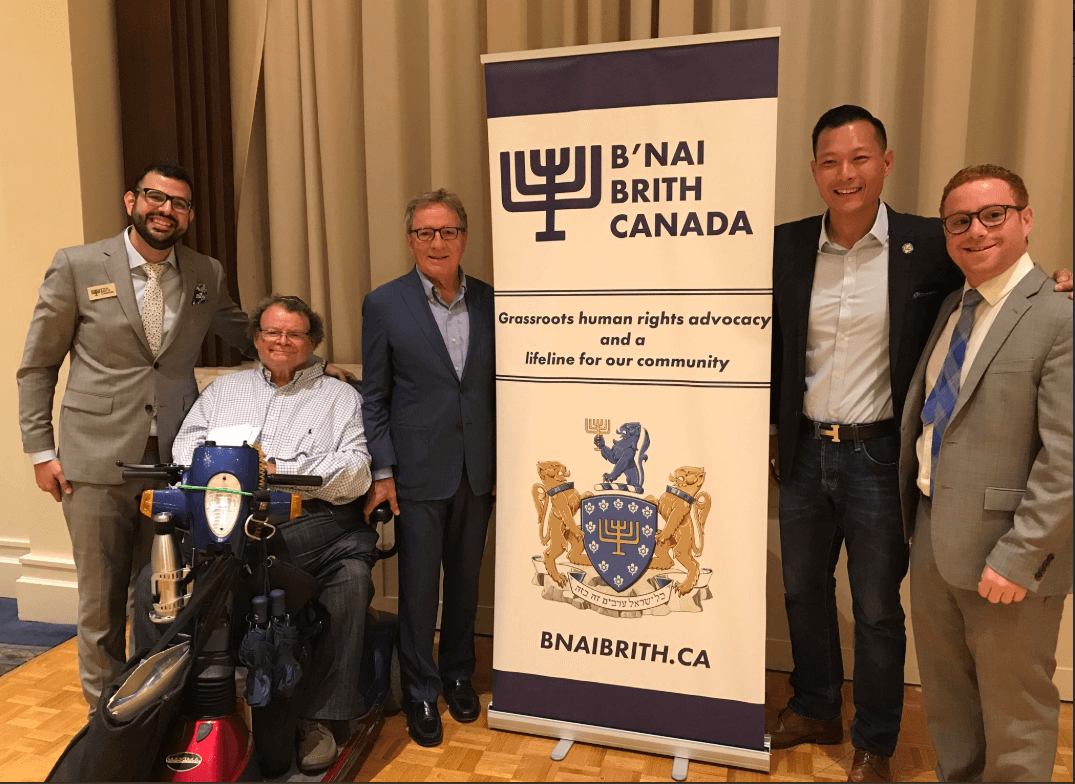 May 28, 2018
By Benjamin Paul
Communications Associate
B'nai Brith Canada
TORONTO – Liberal, Progressive Conservative and Independent candidates squared off in the riding of Willowdale Thursday in a debate hosted by B'nai Brith Canada that focused on issues pertinent to Ontario's Jewish community.
B'nai Brith also hosted debates last week in the ridings of Thornhill and Eglinton-Lawrence.
David Zimmer, Liberal and incumbent MPP, Stan Cho, PC, and Birinder Singh Ahluwalia, Independent, took part in the debate. Unfortunately, candidates from both the NDP and Green Party were unable to attend.
In his opening statement, Zimmer labelled the NDP platform as "magical thinking," and accused the Conservatives of retreating on affordable housing and sexual education.
In Cho's opening statement, he criticized the Liberal government's "mismanagement of infrastructure" for the Greater Toronto Area's steadily growing population. Cho also highlighted the current government's "failure to address traffic, public transit, healthcare, and debt concerns."
Abrinder's opening statement pointed to numerous pressing issues facing the province: failing healthcare, a debt crisis, lack of affordable housing, and inadequate seniors care. Abrinder said he repeatedly sought change as a voter but ultimately failed. He is now "taking matters into his own hands."
Birinder Singh Ahluwalia: I would like to thank B'nai Brith Canada for offering vital social services to our community. #affordablehousing pic.twitter.com/mdQBqD5xgM

— B'nai Brith Canada (@bnaibrithcanada) May 24, 2018
The first question posed to candidates dealt with the growing number of hate crimes targeting members of Canada's Jewish community, as reported in B'nai Brith's Annual Audit of Antisemitic Incidents for the year 2017.
Cho, a second-generation Korean-Canadian, said he experienced racism as a child and called antisemitism and all forms of bigotry "utterly unacceptable." He theorized that by teaching tolerance from a young age in our school system, hatred and intolerance can be drastically reduced for the future generations.
[email protected]: We all know that, for the last 11 years, the Jewish community has been the most targeted for #hatecrimes in Toronto. We must put an end to that and do more to ensure law enforcement works with religious leaders, community groups and the students themselves. pic.twitter.com/IhzLQd9rWb

— B'nai Brith Canada (@bnaibrithcanada) May 24, 2018
Abrinder said it would be unacceptable to condone any hate crime and shared a personal anecdote of when his house was egged after he put up a lawn sign for an unspecified political party.
Zimmer specifically said it is the subtle incidents of antisemitism that must be addressed. Furthermore, he warned that if we continue to turn a blind eye, covert instances of antisemitism will become increasingly overt. He also pledged government funding for additional security at Jewish schools and synagogues.
The second topic dealt with the rising cost of housing in the GTA, and how each party will deal with the issue moving forward.
[email protected]: We must create more awareness about the insidiousness of discrimination. #OntarioVotes pic.twitter.com/OjjRR3jTV2

— B'nai Brith Canada (@bnaibrithcanada) May 24, 2018
Abrinder lauded the social housing programs B'nai Brith provides for Jewish seniors across Canada. He blamed the growing unaffordability of housing on Liberal policies and cited his business background as being the impetus for positive change.
Zimmer ascribed this issue to a lack of supply for the middle class. He also urged the need for more social housing units down the road for retiring baby boomers.
A real estate agent for twenty years, Cho attributed the issue to Liberal policy failures and pledged that a PC government would cut red tape to increase the housing supply. He also suggested burying hydro lines in Willowdale that he said would free up hundreds of square kilometres of land for new housing developments.
Finally, the candidates were asked about the issue of accessibility and how to better serve Ontario's disabled population.
Zimmer touted the Liberals' success over the last fifteen years with increasing accessibility. He specifically noted The Path to 2025: Ontario's Accessibility Action Plan, a piece of Liberal legislation that received unanimous support at Queen's Park to make Ontario more accessible.
B'nai Brith Canada's Eddie Rice talks about the need for accessibility for individuals with disabilities living in this province. #OntarioDecides pic.twitter.com/wFYfH0iXCG

— B'nai Brith Canada (@bnaibrithcanada) May 24, 2018
Cho referred to Doug Ford as "for the little guy," and branded him as the candidate who would help Ontario's disabled population the most.
Abrinder refuted Cho's comment. Instead, he believes Ontario can become a more accessible province for all Ontarians sooner than the Liberal promise of 2025.
Ontario will decide their next government on June 7. Incumbent Premier Kathleen Wynne is seeking re-election to form the fifth consecutive Liberal government. Meanwhile, opponents Doug Ford and Andrea Horwath are battling for votes as the election approaches less than two weeks away.