True North
Nov 13, 2023
"When we have to hide who we are, we disappear": Canadian Jews defiant amid rising antisemitism | True North (tnc.news)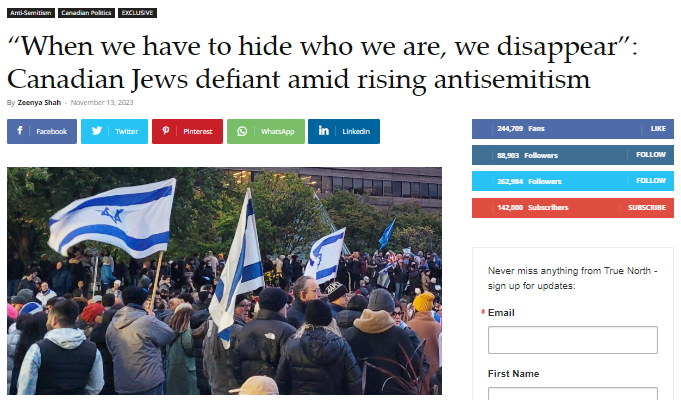 A Canadian human rights organization warns that Jewish Canadians are feeling vulnerable following a series of antisemitic incidents across the country.
Tensions have been rising globally between supporters from either side of the Israel – Hamas conflict, but the recent surge in violence expressed towards members of the Jewish faith has the community concerned for their safety.
Rich Robertson, B'nai Brith Canada's manager of research, told True North that Jewish Canadians are experiencing unprecedented anxiety.
"Our community has gone from a period of devastation and mourning following the terrorist attack on the morning of the seventh, to facing unprecedented anxiety ever experienced by the Canadian diaspora."
"While antisemitism is nothing new for the community," Robertson said. "The current Israel-Hamas conflict is bringing anti-Jewish and antisemitic sentiments to the forefront."