City News
October 26, 2023
https://torontosun.com/news/local-news/warmington-toronto-councillor-urges-tdsb-parents-to-stop-their-kids-protests-against-israel?s=09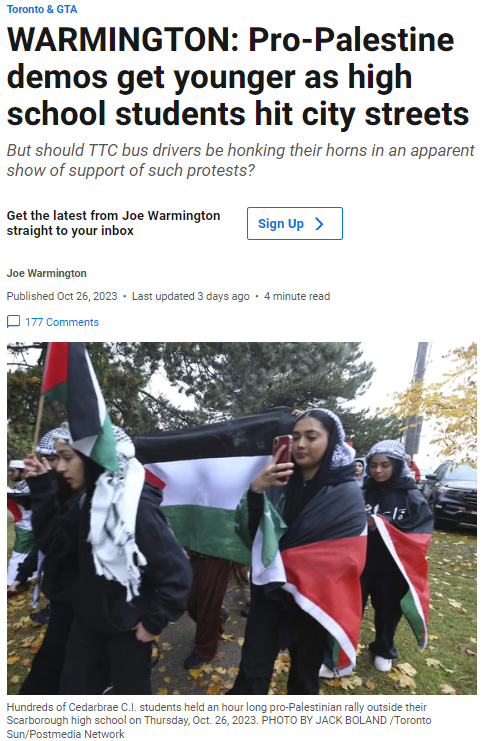 Many in the city's Jewish community question whether TTC buses honking along with Thursday's pro-Palestinian protests by high school students were meant to support the largest terror attack in Israel's history.
Certainly, the other vehicles passing by Cedarbrae Collegiate in Scarborough were honking in favour of demonstrators against Israel's response to the Oct. 7 genocidal Hamas terror attack. Unlike the 2022 Freedom Convoy in Ottawa, where horns honked in protest of vaccine and lockdown mandates, these honks were in support of Toronto District School Board students walking out of class for Palestine.
But as Toronto Sun Jack Boland captured in video, there was a TTC bus driver who honked in what sounded like cheering for the students on the sidewalk along Markham Rd. near Lawrence Ave. E.
The way the students waved at the driver, it must have appeared to the young protesters that the TTC driver was with them.
No big deal?
A very big deal. When you are driving a bus with passengers, you can't be political.
"We've forwarded the video you shared to our bus division," TTC spokesperson Stuart Green said. "They will look into it to see if they can determine why the bus honked as it passed this group."
If it was a safety warning, fine.
But if the honks were meant to support a protest against Israel, it would be just as inappropriate as the Air Canada pilot taking the side of Hamas or the London, England tube driver who was leading a "free Palestine chant." Both were fired.
Last week some teens got a hold of a subway intercom and told passengers there was a "bomb" on board. People fled St. Patrick station and Toronto Police later charged three youth.
"We have heard from several Jewish students and their parents in the public school system about their anxiety amidst these unsanctioned walkouts," said B'nai Brith Canada Research Manager Richard Robertson. "The Jewish community is concerned that these rallies will create an atmosphere that is not conducive to a safe learning environment."
Meanwhile, the TDSB had no answer for the walkouts and demonstrations at Cedarbrae, Woburn Collegiate, Agincourt Collegiate, David and Mary Thomson Collegiate, Etobicoke Collegiate, R.H. King Academy, Dr. Norman Bethune Collegiate, Sir Wilfrid Laurier Collegiate and Sir Oliver Mowat Collegiate.
City Councillor James Pasternak tried to do something the Toronto District School Board says it could not do.
"We urge all parents at the (Toronto District School Board and Toronto Catholic District School Board) to not to let their children be lured into a hate rally today against Israel which could take place during school hours today," Pasternak, of York Centre, wrote on X.
They didn't listen.
Hundreds of Cedarbrae C.I. students held an hour long pro-Palestinian rally outside their Scarborough high school on Thursday, Oct. 26, 2023. PHOTO BY JACK BOLAND /Toronto Sun/Postmedia Network
Boland reported 500 students at Cedarbrae holding signs and wearing Palestinian colours while chanting, "From the river to the sea, Palestine will be free," after walking out to peacefully protest "the bombing of Gaza" for one hour saying they "want it to stop" and it starts with a ceasefire.
Toronto Police pulled over a car with some students waving flags from the sunroof and gave them a warning.
Drivers of two TTC buses, he said, also honked their horns while one protester said she was "supportive" of Hamas.
At Agincourt Collegiate, an online poster said, "We are demanding for the government of Canada to admit that Israel was behind the bombing of the Al-Ahil Baptist Hospital" – something Prime Minister Justin Trudeau eventually acknowledged was the fault of Hamas.
While there have been many protests siding with Palestine since the barbaric terror attack that killed more than 1,400 Israelis – the highest numbers of Jews murdered in one day since the Holocaust – they have been in public settings and involved adults.
That changed Thursday with protests at schools and child protesters.
"While we recognize that students want to express themselves individually and collectively, it is critical that they do so in constructive, respectful and responsible ways," said TDSB spokesperson Ryan Bird, adding when it came to people of Jewish faith caught in the middle "our top priority is the safety of our students and staff.
What should have happened is no protest should have been condoned during school hours. How could anybody of Jewish faith ever feel safe in those schools again?
"While we have heard from various school boards about their plans to try to ensure these walkouts remain civil, we have yet to hear of a proactive plan for keeping our school's incitement free," said Robertson.
Both the TDSB and TTC have to stop looking for neutrality an take a hard stand against terror, murder and anti-Semitism, and make it clear there is no tolerance for those supporting it.