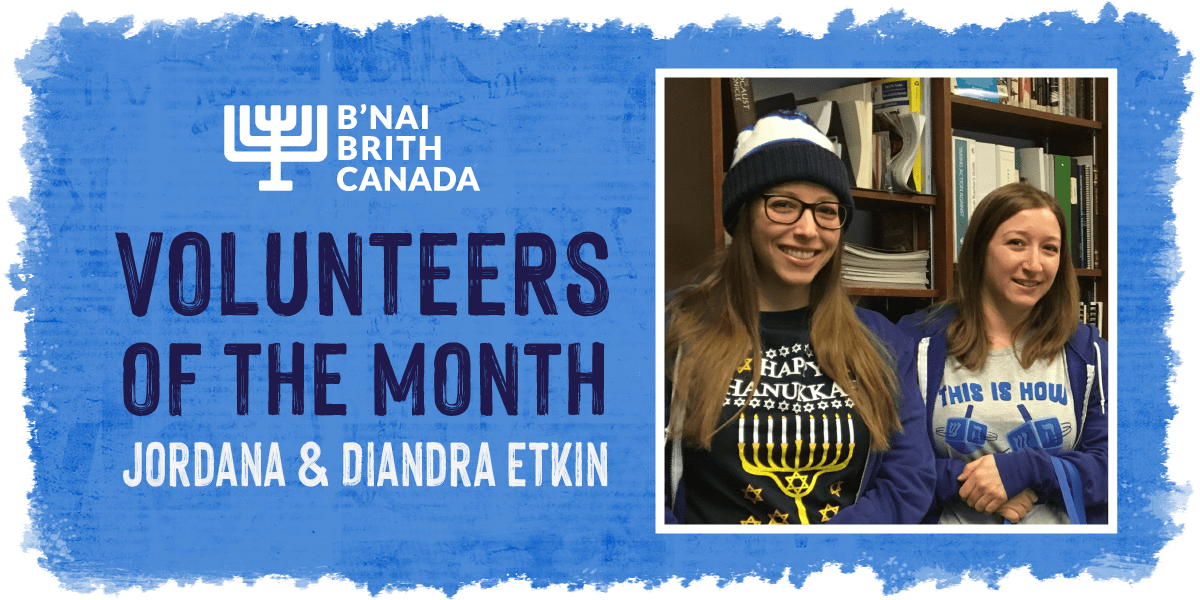 B'nai Brith Canada has introduced a new feature that is being posted regularly at www.bnaibrith.ca/volunteer-with-us.
This feature allows us to pay tribute and express gratitude to exceptional volunteers who have given their time and energy to further the missions of our grassroots, human-rights organization.
We are grateful and proud of

—
Diandra and Jordana Etkin, two sisters from Winnipeg, Manitoba, have been volunteering for B'nai Brith in Winnipeg for over a decade.
Giving their time as volunteers was a lesson that Diandra and Jordana learned early on from their family. In Jordana's words: "volunteering is part of my identity." The Etkin sisters' first program as volunteers was the "Afternoon with the Goldeyes" program in Winnipeg, a community event that gives underprivileged individuals serviced by local agencies the opportunity to watch a Winnipeg Goldeyes Baseball game and enjoy the afternoon.
They both help with preparing and delivering food hampers throughout the year, and although the interactions they have with the recipient families are brief, the connections they build make their day. On Chanukah, they are well known for wearing fun Chanukah shirts and playing festive music in the car as they deliver the packages. "I really enjoy volunteering my time for an organization that I fully support and believe in," Diandra said.
When asked to describe their experience with B'nai Brith in one word, both sisters said: "gratitude." They are grateful for the opportunity to give their time to the Jewish Community in Winnipeg, and they are grateful to see all the good that is being done. "We have a lot of love for B'nai Brith Canada."
We at B'nai Brith have a lot of love for our incredible volunteers as well. We extend many thanks to Diandra and Jordana for their commitment and unwavering support!