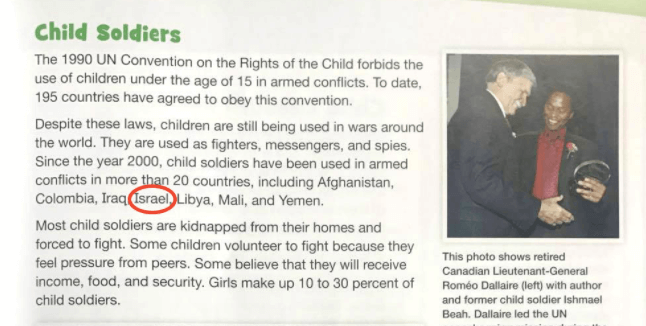 Dear Friends,
We wanted you to be the first to hear about B'nai Brith Canada's latest victory in the fight against anti-Israel propaganda.
You've probably heard about B'nai Brith's investigation into the case of a Grade 6 Social Studies textbook called Canada and the Global Community that falsely accuses Israel of using "child soldiers." While about 800 elementary schools in Ontario have been using copies of this textbook for the past three years, B'nai Brith has been ardently campaigning to have them corrected before students return to school in September.
Before, it was up to individual schools to request that Nelson Education, the textbook's publisher, correct the blunder with the use of a permanent replacement sticker page. In an interview with the Toronto Sun, Michael Mostyn, Chief Executive Officer of B'nai Brith Canada, explained that this type of complacency didn't accomplish nearly enough. In another interview with NEWSTALK 1010, Mostyn reiterated B'nai Brith's demands:
"We're demanding follow-up," he said. "This false information has been taught for three years now to Grade Six students across the province and it can't continue any further."
Today, we are proud to say that after advocating on behalf of the grassroots Jewish community and after corresponding with school boards across the province, Nelson has given its commitment to us that not a single uncorrected copy of the textbook will be present in Ontario schools come Sept. 5.
According to a spokesperson with Nelson, it is working in tandem with the Ontario Ministry of Education to ensure that more than enough stickers are being produced and sent out to Ontario schools by the end of summer.
Thanks to our efforts and with the cooperation of Nelson, the publisher is moving proactively to guarantee that anti-Israel propaganda no longer has a space in Canadian classrooms. But don't worry – B'nai Brith's efforts won't stop here! We intend to continue following up with each and every school board in Ontario to ensure that these stickers are properly applied, and that such misinformation never again permeates the Canadian educational curriculum.
This is a major victory not only for B'nai Brith, but for the community as a whole, and we couldn't have done it without you. Thank you for making calls to your local schools and the Ministry of Education, for checking to make sure your children are not reading from incorrect textbooks, and for continuing to believe that together, we can make a difference.
Please join us in continuing our efforts in standing against racism and fighting for the rights of Israel and the Jewish community. Be it $5, $20, $50, or $100 – every little bit counts. With your support, we can continue the advocacy that our community so desperately needs.
Thank You.
Sincerely,