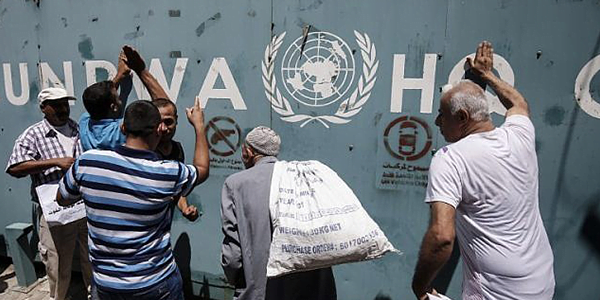 December 21, 2020
OTTAWA – B'nai Brith Canada is extremely disappointed that the Government of Canada has announced a renewed financial contribution to the United Nations Relief and Works Agency (UNRWA) for Palestine 'Refugees' in the Near East, while falling far short on pressing for major institutional reforms.
Today's announcement fails to address the systemic problems underlying UNRWA activities, particularly in the education sector, and lacks transparency in describing what steps are being taken by Canada and its partners to ensure UNRWA no longer poses an obstacle to peace.
"Canada's decision to renew UNRWA funding represents a missed opportunity to leverage our international leadership to foster conditions for a durable Middle East peace during a time of transformative regional change," said Michael Mostyn, Chief Executive Officer of B'nai Brith Canada. "UNRWA's core objectives are not conducive to finding equitable solutions for Palestinian 'refugees' and its educational efforts help perpetuate a feeling of hatred towards Israel and the Jewish people. This must end."
Mostyn added: "It's intolerable that UNRWA schools continue to indoctrinate Palestinian children toward antisemitism and eternal war, rather than peace and acceptance. Canadians deserve to know that their international aid dollars are not supporting terrorism or incitement in any way, shape or form."
There is abundant evidence that the Palestinian Authority textbooks de-legitimize both Israel's existence and the very presence of Jews in the country – including the denial of the existence of Jewish holy places there – demonize both Israel and Jews, and advocate violence instead of educating peace and coexistence.
According to a 2019 study by The Institute for Monitoring Peace and Cultural Tolerance for School Education (IMPACT-se), in the Palestinian Authority curriculum "there is a systematic insertion of violence, martyrdom and jihad across all grades and subjects in a more extensive and sophisticated manner, embracing a full spectrum of extreme nationalist ideas and Islamist ideologies that extend even into the teaching of mathematics and science, including: physics, chemistry and biology."
Textbooks that incite hate in UNRWA schools allow the perpetuation, through UNRWA, of the illusion of a Palestinian 'right of return' to the land of Israel and embed in UNRWA's work an approach that unfairly keep Palestinians in an eternal state of limbo.
"Canada, together with other donors, had an opportunity to ensure that our funding of UNRWA was placed under more rigorous review, to reassess UNRWA objectives," said Brian Herman, B'nai Brith Canada's Director of Government Relations. "The framework agreement with UNRWA dating from 2017 is a commendable effort, but hasn't rectified this serious problem."
Israel, for its part, long ago accepted its responsibility on the matter of refugees by taking in most of the 850,000 Jewish refugees from Arab countries who were dispossessed and expelled at gunpoint from their homes, all but erasing two millennia of Jewish life in the Arab world. Unlike the fate of Palestinian refugees, considered one of the Middle East conflict's 'core issues', the oft-neglected plight of Jewish refugees is given little attention.