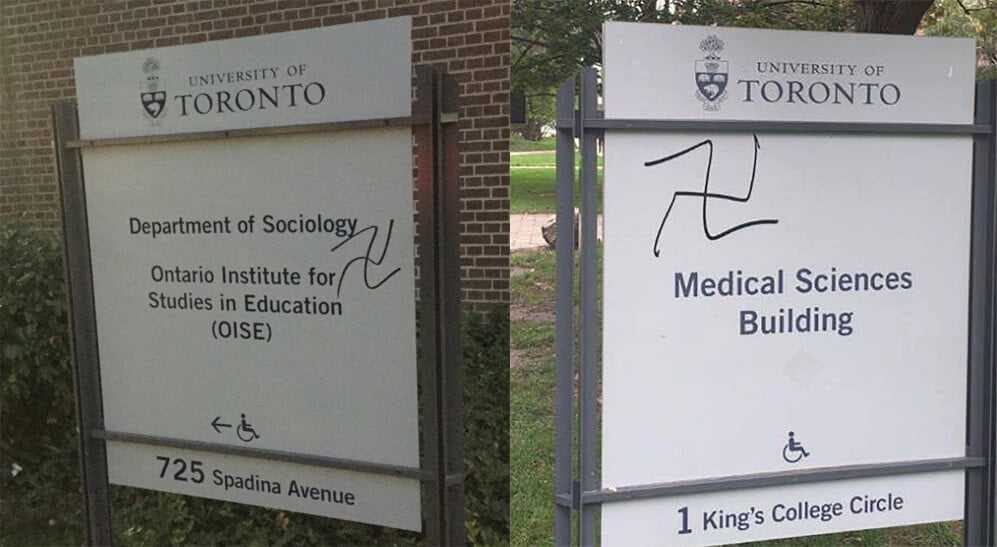 By Marty York
Chief Media Officer
B'nai Brith Canada
In response to recent antisemitic vandalism on campus, the University of Toronto reiterated in a news release Thursday that it deplores "abhorrent acts" of antisemitism and will support those affected.
The question, however, is what will the university do to prevent further acts of antisemitism on campus?
B'nai Brith Canada recently has received many complaints from Jewish students, who claimed they do not always feel safe on campus, particularly after a spate of swastikas defacing university property was discovered on its St. George and Mississauga campuses.
"A statement like this from U of T is welcome, but it is only lip service unless concrete action is taken to protect its students," said Amanda Hohmann, National Director of B'nai Brith's League for Human Rights. "The university has an obligation to its students and should review its security procedures. Incidents at U of T are not a rarity, and B'nai Brith would welcome the opportunity to work with the university administration in a bid to bring its human-rights record up to the same standard as its academic reputation."
Here is the statement released Thursday by the university, co-signed by University of Toronto president Meric S. Gertler and vice-president and provost Cheryl Regehr:
"The University of Toronto's St George campus has recently witnessed blatant acts of anti-Semitic vandalism. We deplore these abhorrent acts. We will support those affected, investigate or assist in the investigation of apparent crimes, and forward any evidence to the Toronto Police for their assessment.
"We reaffirm our collective and unwavering commitment to diversity, equity, and inclusion. This is, of course, a moral imperative and one of the University of Toronto's core values. It is also a cornerstone of outstanding scholarship, teaching, and learning which can thrive only by embracing the broadest range of people and encouraging the free expression of their diverse perspectives.
"Anti-Semitism, racism, and discrimination subvert the entire community, not just those targeted. Fittingly, the University of Toronto responds as a community – led by our students, faculty, staff, and alumni. We will continue to confront anti-Semitism, racism, faith-based discrimination, and all other forms of discrimination directly, with education, commitment and compassion."
If you are a university student and have experienced or witnessed an antisemitic incident, please contact our campus co-ordinator, Aidan Fishman, at [email protected].