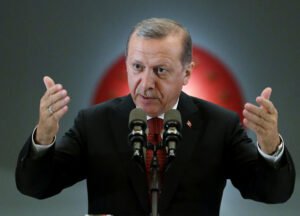 By Simon Pelsmakher
B'nai Brith Canada 
In another sign of thawing Turkish-Israeli relations, Turkey's President Recep Tayyip Erdogan has come out condemning the IHH Humanitarian Relief Foundation, the group responsible for the 2010 Mavi Marmara flotilla incident which soured relations with the Jewish State.
President Erdogan stated that the Hamas affiliated "charity" never received proper permission from Turkish authorities to set sail for Gaza. He also accused the group of attempting to hamper reconciliation efforts. President Erdogan's comments came in response to IHH criticizing the government for its rapprochement with Israel.
As part of the accord, Turkey has pledged to assist Israel in releasing the bodies of IDF soldiers held by Hamas. Israel has agreed to provide Turkey access to its natural gas, and allow it to provide humanitarian assistance to Gaza via the Port of Ashdod. Both countries are expected to appoint ambassadors to one another within the next few weeks.
While President Erdogan's change in tone is a refreshing from his harsh anti-Israel rhetoric of the past few years, he has pledged to not halt relations with Hamas and will continue to allow the terrorist group to operate its offices in Turkey.