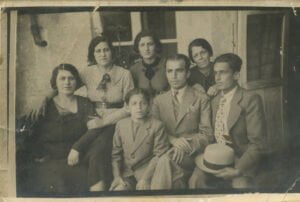 As part of B'nai Brith Canada's week long series to commemorate the nearly 1-million Jews who fled their homes across Arab countries and Iran, we spoke to Joseph Esses and his wife Olga Abadi Esses from Syria.
The Jewish people have a long and storied history in Syria, dating back to biblical times. Tradition in the region popularly ascribes its original foundation to the time of King David, more than 3,000 years ago. A second wave of Jewish immigration in 1492 saw an influx of Sephardim fleeing Spain, and the founding of a subsequent culturally-distinct Sephardic Jewish community in Syria.
In the early 20th century, anti-Jewish sentiment began to increase, and in the mid-1940s some 4,500 Syrian Jews fled to the British Mandate of Palestine. After Syria declared independence from France in 1946, the Syrian government banned Jewish immigration to Palestine, and those caught trying to leave faced the death penalty or were imprisoned with hard labour.
With the approval of the UN Partition Plan for Palestine in 1947, pogroms broke out in Damascus and Aleppo. Hundreds of Jews were killed and injured, and more than 200 hundred Jewish homes, businesses and synagogues were destroyed.
With the founding of the State of Israel in 1948, the Syrian government passed a number of anti-Jewish laws, including a ban on the sale of Jewish property. In 1953, all Jewish bank accounts were frozen, and Jewish property was confiscated.
In 1964, more laws were enacted, restricting Jewish travel, disallowing them from working for the government, and banning them from purchasing property or acquiring a driver's license. The laws also allowed the demolition of Jewish schools and cemeteries. Following the Six-Day War in 1967, restrictions tightened even further, and pogroms targeting Syria's Jewish community became more frequent, leaving dozens dead.
The situation for Syria's Jewish community remained dire throughout the 1970s-80s. Syrian Jewish women were raped, men were tortured, and the government still forbade them to leave.
Eventually, Syrian Jews began to leave in secret. Beginning in the early 1970s, one Jewish Canadian of note, Judy Feld Carr, helped smuggle 3,228 Jews out of Syria to Israel, Canada, the U.S., and Latin America. Feld Carr was able to use funds donated privately from the Dr. Ronald Feld Fund for Jews in Arab Lands to negotiate for their release, many of whom were incarcerated. The entire process took some 28 years. "I paid ransoms, I arranged escapes. I was the best kept secret in the Jewish world," she said.
By the 21st century, there were some 200 people that made up Syria's Jewish community. Today, it is estimated that only 18 of them remain.
Olga Abadi Esses z"l passed away on November 21, 2016. The entire series is dedicated in honour of Olga's memory. Her courage is an inspiration for the entire Jewish community. May her memory be a blessing. 
The first four parts of the series can be viewed below: