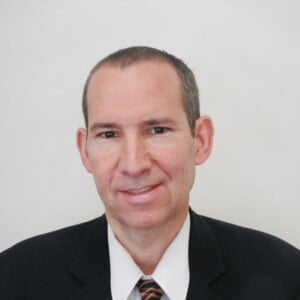 The opinions, facts and any media content presented do not necessarily reflect the position of B'nai Brith Canada.
Feb. 7, 2018
MONTREAL – Marc Garneau is no stranger to the State of Israel. He has been to the Jewish State four times now.
Garneau, Federal Minister of Transport and Liberal Member of Parliament for NDG-Westmount, was, of course, Canada's first astronaut to go to space. He recently returned from his last visit, having concluded a new air transport agreement with Israel. This will allow designated airlines to operate up to 19 passenger flights per week, up from 12.
The premise is this: From visiting friends and family to getting goods to markets around the world, Garneau notes how Canadians rely on a robust aviation industry with diverse international air services. Expanding Canada's existing air transport relationships allows airlines to introduce more flight options and routings, which benefit passengers and businesses by providing greater choice and convenience.
While in Israel, Garneau also held key bilateral meetings with his counterpart, Israel Katz, as well as senior Canadian business leaders established in Israel. He aimed to advance bilateral cooperation in transport and discuss policy approaches.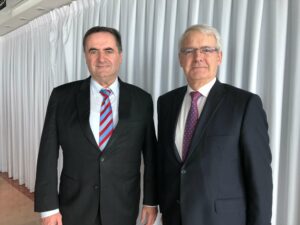 "The expanded air transport agreement between Canada and Israel is a positive development for air transport relations between our countries," Garneau said. "We are pleased to expand this relationship with additional flexibility for airlines to serve this growing market. By making the movement of goods and people faster and easier, this expanded agreement will continue to facilitate trade and investment between Canada and Israel and help our businesses grow and succeed."
Katz, Israel's Minister of Transport and Intelligence, added: "Canada is a true friend of the State of Israel and we are grateful for their deep support. The expanded agreement with Canada is another step in the liberalization policy that the Israeli Ministry of Transportation is leading in the aviation sector and it opens additional possibilities to Israeli airlines for cooperation agreements with other foreign carriers in Europe and North America. The agreement was initiated within the Israeli framework of open skies reform and the general strengthening of bilateral, commercial and economic ties between Israel and Canada. The implementation of the expanded aviation agreement is expected to lead to an improvement in the level of service on flights to and from Israel and to an increase in the level of competition among airlines, as well as a drop in airfares and an increase in passenger and cargo traffic to Israel."
Air Transat, which made its first foray into the Middle Eastern region last summer when it launched direct flights between Montreal and Tel Aviv, praised the deal. "We congratulate the federal government for reaching an expanded air transport capacity arrangement with Israel," said Jean-Marc Eustache, President and Chief Executive Officer. "This deal will open up new development and growth possibilities for Canadian-based international carriers such as Air Transat."
Building on that success, Air Transat announced it will be offering three direct flights a week out of Montreal this summer, along with service from Toronto supported by connecting flights. The new program begins May 23. Besides flights,  Air Transat markets a full range of vacation packages to Israel.
François-Philippe Champagne, Canada's Minister of International Trade, said this expanded agreement will create more flight options and routings, which in turn will facilitate more of the people-to people ties that leads to more business and more job creation. "This agreement demonstrates our commitment to further strengthening the Canada-Israel trade and investment relationship," he said.
The original Canada-Israel Air Transport Agreement was signed in 2015. This expanded deal was reached under Canada's Blue Sky policy, which encouraged long-term, sustainable competition and the development of international air services. Under the Blue Sky Policy, the government has concluded new or expanded air transport agreements covering more than 100 countries.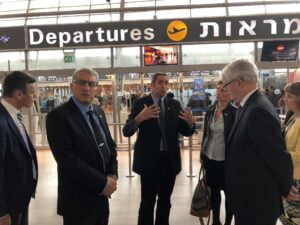 Garneau is a gentleman and a true friend of Israel. He visited the country twice when he was the head of the Canadian Space Agency, then as a member of the opposition and critic for Foreign Affairs.
I asked Garneau why he thought this trip was important. "It helped us reinforce our strong relationship with the government of Israel and to emphasize our commitment to peace directly with both the Israeli government and the Palestinian Authority," he said. "It has also allowed us to get a pulse of the current regional reality. Furthermore, the trip helped to secure an increase in the number of flights between Canada and Israel… Canada and Israel have strong, multi-dimensional bilateral relations, marked by close political, economic, social and cultural ties. Support for Israel, especially its right to live in peace and security with its neighbors, has been at the core of Canada's Middle East policy since 1948."
Mike Cohen is B'nai Brith Canada's Quebec news bureau chief, a veteran writer and municipal politician. He can be reached at [email protected]. Follow him on Twitter @mikecohencsl